How much the world has changed in the last three years was a popular topic of discussion among the nearly 450 attendees gathered for Day 1 of Compliance Week's National Conference in Washington, D.C.
The event, CW's first in person since 2019, saw many old friends and colleagues reuniting for the first time since the onset of the Covid-19 pandemic. The positive energy throughout the lobby of the JW Marriott Hotel was unmistakable, and a programming schedule of interactive workshops and networking sessions gave many the chance to share their experiences of the past few years—for better or worse—with their peers.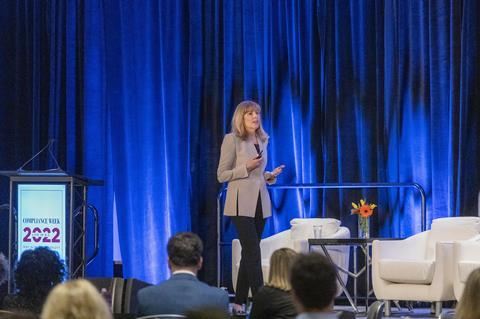 Asha Palmer, chief ethics and compliance officer at software vendor OneTrust, delivered the opening remarks Monday with a message highlighting the resiliency of compliance officers during the pandemic. The need to shift training, reporting, and other significant functions to virtual at a moment's notice placed practitioners in uncharted waters, yet compliance officers rose to the occasion and met these challenges head-on—as they often do.
The effort needed to overcome these obstacles underscored the importance of the conference's opening keynote featuring Caren Kenney, chief executive officer and founder of Evolve Leadership. Kenney, the former executive director of premier executive leadership at the Johnson & Johnson Human Performance Institute and co-author of the book "Leading with Character," stressed to audience members the importance of taking care of themselves as much as looking after their businesses.
"Your roles are more critical than ever," Kenney told attendees. "… You have all this work to do—what often happens is when we get asked to do more and take on more, we neglect ourselves in the process of it. We push our wellbeing aside. We push our personal lives aside. But there's no time more important than focusing on yourselves as human beings. If you're going to be taking on these additional challenges, you have to start with yourself. That's what we tend to neglect."
Kenney shared the following advice for practitioners feeling or staving off the effects of burnout.
Wellbeing and performance are "inextricably linked." You can't create more time in the day, but you can create more energy to invest in the limited time you have. "This idea of energy investment is thinking about who or what in your life gets your best energy," Kenney said. "For many people it's work … but then they come home and they're exhausted and plop on the couch." Family and friends don't care about work struggles as much as they care about you and the version of yourself you are giving them, she said.
Human beings at their best are physically energized, emotionally connected, mentally focused, and connected to a purpose. "A deficit in any one of those areas is going to impact the rest," she said. Not sleeping, eating, or exercising well are among the most common deficiencies that might negatively impact decision-making.
Build in strategic recovery breaks throughout the day. "Resist the smartphone," Kenney said. "If you take a break and grab your cellphone, it's the same cognitive depletion as if you did not take a break at all." Time away should not be put off until the evening or weekend—it must be mixed-in as part of your daily schedule.
Purpose is the foundation of everything. "The most important time you will spend is focusing on your purpose," Kenney said. Helpful questions to ask yourself include the following:

Who or what matters most to me?
What impact do I want to have on others?
What must I complete to have lived a life of true success?

Understand the difference between rituals and habits. "A habit is something you do in service of the habit," she said. "… A ritual you do in service of your purpose."
Kenney concluded with an important reminder: "We're all a work in progress." One thing the pandemic has not changed is our need to accept and embrace how much we have to learn. What better place to do so than in a safe space among our fellow compliance enthusiasts?

Kyle Brasseur is Editor in Chief of Compliance Week. His background includes expertise in user personalization with ESPN.com.
View full Profile