Starting a business is not for the faint of heart. It takes guts.
In compliance, where cautiousness reigns supreme by principle, a sense of risk aversion permeates the profession—at least reputationally. Entrepreneurship in the compliance space, then, almost seems like a nonstarter, too incompatible to work in tandem.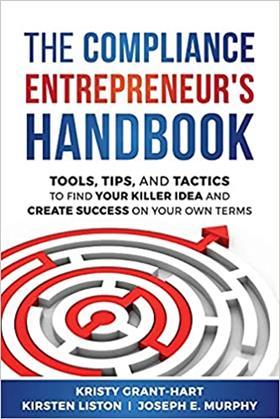 "The Compliance Entrepreneur's Handbook: Tools, Tips, and Tactics to Find Your Killer Idea and Create Success on Your Own Terms" debunks that theory. Not only do authors Kristy Grant-Hart, Kirsten Liston, and Joe Murphy prove that a defeatist attitude is nonsense—they teach readers exactly how to build a money-making business, from prelaunch to exit.
The book is tailor-made for compliance professionals, but the lessons are portable. Anyone itching to turn a part-time hustle or low-key dream into an actual career will be better off for reading this book. Personal example: I don't want to start a traditional business, but I do want to be a novelist, and there were dozens of takeaways that resonated with me.
That said, the authors don't mince words. Going out on one's own is risky, scary, and difficult. "Market opportunities can be visible long before people take action on them—and … the right time to take action is often when they still feel risky," Liston writes.
Thus, be prepared for emotional battery along the way. The authors confess to some of their lowest of lows: Grant-Hart's cash crisis (and panic attack in a hotel room at 3 a.m.) two months into launching Spark Compliance; Liston's Rethink Compliance facing a dearth of sales in 2016, which she dubbed "that dark quarter." Even Murphy's Integrity Interactive had a slow start in its early years.
None of them purport to have had stardust shaken over them. They took the bad with the good and kept trucking, using hard lessons to inform subsequent iterations of their businesses. And by flirting with failure, they learned working capital is the No. 1 reason companies fold, so they avoided that pitfall forevermore.
The meat of the book dives into the practicalities of each stage. The prelaunch chapters offer a crash course into various business models, pricing models, company infrastructures, hires, partnerships, strategic alliances, and sources of capital. The execution (i.e., go-time) chapters explain why Alec Baldwin's famed phrase, "always be closing," is timeless for a reason. Sales are the most critical part of the business; the authors break down what a USP (unique selling position) is, why people "buy holes, not drills," and why it's so important to plant seeds for sales opportunities.
"People like to buy things but hate to be sold on them. And, especially in compliance, people only buy when they're ready, and it may take months or years," they write.
The third section enumerates various methods of marketing: writing, speaking, building an online presence, and networking. One of my personal takeaways was this one: "Think long and hard before committing to writing a book. If you get it right, it can be a huge win. If you don't, it can be a long, embarrassing time-suck with little to show for your effort and money." See? They serve up tough love.
Exit strategies should be considered from the start, they write. Murphy's Integrity Interactive was purchased by SAI Global in 2010, and here he elucidates why having a product-based business paid off, quite literally.
"None of us who started [Integrity Interactive] were indispensable. That was by design—it was salable and scalable. A potential purchaser could see that all it needed to continue as a money-making business was sufficient management skill," Murphy writes.
What I enjoyed most while reading "The Compliance Entrepreneur's Handbook" was the interaction of all three authors' palpable personalities. They are industrious visionaries, but they brought three distinct lenses and voices to the discussion.
Grant-Hart, with her background in theater, film, and TV, is "the performer," dispensing how she turned her Bette Midler-inspired talent for storytelling into effective marketing, including paid speaking engagements.
Murphy reminds me of Malcolm Gladwell's description of "a connector": someone who sees opportunity in linking up with others. "I'd rather be a small part of something big than a big part of something small," he writes.
Then, there's Liston, "the analyst," who is constantly observing, inquiring, reflecting, and synthesizing her knowledge. Even naming her company "Rethink" speaks to her natural mindset.
In case you are wondering if they have the savvy to back up their discourse, here are some pertinent tidbits: Grant-Hart has gone on to start a second business, renting out 12 cabins and 38 acres of land in West Virginia; Liston has dabbled in real estate investment as well, purchasing ski and city condos in the Denver area; and Murphy, a single dad of two, had his children's college educations fully funded and his mortgage paid off by the time he started his business.
So, as Dolly Parton once sang, pour yourself a cup of ambition. It's time to crack the spine on this one.

Aly McDevitt is Data & Research Journalist at Compliance Week. She has a background in education and college consulting. Prior to teaching, she was an editor/author at Thomson Reuters.
View full Profile