Behold: an interactive workbook for goal diggers that delivers on a promise.
"The PI Guidebook: How the Promotability Index Can Help You Get Ahead in Your Career" by Amii Barnard-Bahn actually does what it says. It empowers readers to advance their career by—here's the trick—forcing them to clarify how they'll get there.
Some personal development literature promises the moon. Once the book gets closed, however, the pull of daily routine takes the wind out of its sail. Those books end up packing the punch of a fortune cookie, revelatory but flimsy, because the advice is too opaque to be actionable.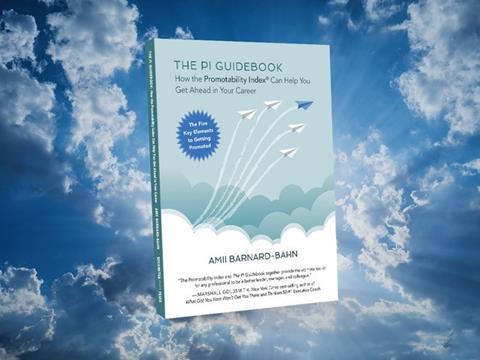 Barnard-Bahn's book is different. It encourages readers to think big, yes. But act small.
"Success is a series of small steps taken consistently and with discipline," Barnard-Bahn writes. "Don't take too much on at once, or you can easily get overwhelmed."
The onus is on the reader to fill many of the pages—with honest reflection and intentions, masterfully coaxed out by Barnard-Bahn, creating a dynamic experience that is customized and reader-driven.
Because the book marries close engagement with granular instruction, the "PI Guidebook" has staying power where others of its genre do not.
The reader doesn't go it alone, however. Barnard-Bahn is a present companion along the transformative journey, peppering the book with her expert tips; recommended strategies; inspirational quotes; and outside resources like books, videos, and articles. She even links to TED Talks and shares advice on how to mine them for insights.
The "PI Guidebook" complements Barnard-Bahn's promotability index: a free, 82-question checklist that gauges the test-taker's competencies in five key areas she identifies as drivers of promotability: self-awareness, external awareness, strategic thinking, executive presence, and thought leadership.
"Over the course of my corporate career, I made my way up to several executive positions, including chief human resources officer, chief compliance officer, and chief administrative officer," Barnard-Bahn writes. "I saw who got promoted and why."
A tallied score on the index also lands the test-taker in one of three career stages—exploring, establishing, and advancing—providing further nuance to the individualized test results. A college graduate or midlife career-changer, for example, will use the "PI Guidebook" differently than someone at the peak of his or her compliance career, but the baked-in exercises remain applicable to all.
After completing the metacognitive and challenging work of the promotability index exercises in each key area, Barnard-Bahn rewards the reader with a blueprint to self-development progression: an action plan. Her template holds the reader's feet to the fire, demanding concrete steps, deadlines, anticipated challenges, and compensatory strengths to overcome obstacles. She offers the tools to be one's own disciplinarian.
Release ego, embrace hang-ups
One powerful takeaway of the "PI Guidebook" is its emphasis on humility, rather than ego, to get ahead. It may seem counterintuitive—and yes, confidence is powerful—but Barnard-Bahn points out one of the keys to promotability is sponsorship.
"No matter where you are in your career, you need to have allies and sponsors to move forward. Someone needs to make that bet on you," Barnard-Bahn writes.
Sometimes getting along with others and building relationships with stakeholders means eating humble pie. It means looking for opportunities to solicit frank feedback on their perceptions of you.
"This will help you become aware of behaviors that may be blocking or derailing your advancement," Barnard-Bahn writes. She tells readers to ask their boss for their biggest pet peeves and to inquire ways they could be more effective communicators.
"If something scares you, that is a likely sign that you are avoiding that aspect," Barnard-Bahn writes. "Get curious and think about why a particular action is challenging for you. Maybe you'll discover the big thing that is holding you back."
Perhaps slapping on some armor and asking one's boss questions no one is chomping at the bit to hear the answers to requires more confidence than humility anyway.
There's another reason to kick ego to the curb when it comes to playing the long game: sometimes getting ahead requires a lateral move (without a pay raise) or even a temporary step backward to pick up important skills that may be required for long-term advancement. Barnard-Bahn speaks from experience, having done both along her chartered course to the C-suite.
"Summon the courage, and do the work. Surround yourself with people who believe in you. Be kind to yourself, and be kind to others," Barnard-Bahn writes.
Editor's note: Amii Barnard-Bahn is a quarterly contributor to Compliance Week.

Aly McDevitt is Data & Research Journalist at Compliance Week. She has a background in education and college consulting. Prior to teaching, she was an editor/author at Thomson Reuters.
View full Profile