The Securities and Exchange Commission (SEC) under President-elect Joe Biden will push ESG and climate change-related risk alerts, guidance, and rulemaking that will likely require companies to disclose how these risks affect their bottom line.
The SEC will get a new chairperson early next year, and that person will be tasked with turning Biden's policies into action. Nowhere is the difference between Biden and his predecessor, President Donald Trump, more evident than on climate change.
SEC Commissioner Allison Herren Lee called the agency's failure to require the disclosure of ESG-related risks like diversity and climate change "an unsustainable silence."
Trump is a skeptic who placed climate change deniers in key federal environmental posts. Biden has promised to make fighting climate change—by setting emissions standards, then holding companies accountable to meet them—one of his administration's top goals.
Biden's campaign Website indicates he will hold polluters accountable by establishing "an enforcement mechanism to achieve net-zero emissions no later than 2050," including a target date no later than the end of his first term.
"This enforcement mechanism will be based on the principles that polluters must bear the full cost of the carbon pollution they are emitting and that our economy must achieve ambitious reductions in emissions economy-wide instead of having just a few sectors carry the burden of change," Biden's campaign Website said.
Promises, promises, right? Biden could face a Republican Senate majority that could blunt his attempts to implement laws that back up his rhetoric.
However, Biden has much more latitude to pursue his climate change goals via the SEC. Chairman Jay Clayton, nominally an independent commissioner but clearly a Trump ally, announced he will resign at the end of 2020. Clayton's replacement on the SEC will be tasked with implementing Biden's agenda.
SEC focus on ESG disclosures will affect investment firms, financial advisors
The Securities and Exchange Commission under President-elect Joe Biden will likely focus attention on claims made by investment firms and financial advisors regarding their environmental, social, and governance (ESG) funds.
"I think they will take a more wholistic view on ESG, not just focusing on climate change," said Debra Franzese, a partner with law firm Seward & Kissel.
In the short term, this will likely take the form of risk alerts or guidance, she said, that will re-emphasize that firms with specific ESG or sustainability funds prove their policies and procedures match the promises made to investors in marketing materials, social media posts, and other pitches.
The SEC under Biden will closely examine "greenwashing," attempts to make a fund look more sustainable or ESG-friendly than it really is, she said. "Think about having a separate section in your disclosure on how you're measuring and what you're measuring," Franzese said.
Investment firms and financial advisors do have the flexibility to define ESG as they want, she said, because the SEC has not yet offered a definition.
"You should be explaining your definition of ESG and how it is being integrated so your disclosure is very clear. You don't want to give the impression you're considering ESG factors unless you have policies and procedures and demonstrate how you are doing so," Franzese said.
In the long term, the SEC may consider entering the rulemaking process to define ESG, then drill down on exactly what ESG-related risks it wants companies to disclose.
Europe is far ahead of the United States on this topic, and the SEC may use ESG disclosure requirements set to be enacted by the European Union in March, or by the United Kingdom in 2023, as benchmarks.
"Biden has clearly stated that he's making climate change a priority," said Debra Franzese, a partner with law firm Seward & Kissel. "I think a new SEC chair would be similarly focused on these issues."
Pressing Biden's climate change agenda forward in the SEC could take many forms, but several legislative efforts by progressive Democrats indicate the agency could require companies to disclose risks related to environmental, social and governance (ESG) issues, which includes addressing risks associated with climate change.
In 2019, Sen. Elizabeth Warren (D-Mass.) submitted a bill, the "Climate Risk Disclosure Act of 2019" (S.2075), which proposes to direct the SEC "to require an issuer of securities to annually disclose information regarding climate change-related risks posed to the issuer, including an issuer's strategies and actions to mitigate these risks. Among other things, issuers must report their direct and indirect greenhouse-gas emissions, disclose their fossil fuel-related assets, and establish standards regarding the social cost of carbon."
Warren's bill received a hearing last month before the Senate Committee on Banking, Housing, and Urban Affairs.
Another Democratic bill by Rep. Juan Vargas (Calif.), the "ESG Disclosure Simplification Act of 2019" (H.R.4329), would require public companies to "annually disclose to shareholders certain environmental, social, and governance metrics and their connection to the long-term business strategy of the issuer." The bill would also establish a "Sustainable Finance Advisory Committee" within the SEC that would recommend "policies to facilitate the flow of capital towards environmentally sustainable investments." The bill is currently before the House Committee on Financial Services.
Like Warren's climate change disclosure bill, Vargas' ESG bill is unlikely to be recommended out of committee before Trump leaves office in January.
Requiring ESG disclosures is a priority for SEC Commissioner Allison Herren Lee, one of two Democrats who would join Biden's choice to form a three-member majority. Lee says the SEC should be demanding more ESG disclosures from the entities it regulates.
"There is room for discussion as to which specific ESG risks and impacts should be disclosed and how. But the time for silence has passed," Lee wrote in an Aug. 26 dissent on proposed changes to Regulation S-K, which outlines financial disclosure requirements for public companies. Lee called the SEC's failure to require the disclosure of ESG-related risks like diversity and climate change "an unsustainable silence."
"It's time for the SEC to lead a discussion—to bring all interested parties to the table and begin to work through how to get investors the standardized, consistent, reliable, and comparable ESG disclosures they need to protect their investments and allocate capital toward a sustainable economy," she wrote.
Lee also referenced ESG initiatives in her Sept. 23 dissent on Rule 14a-8, which dealt with shareholder oversight of management at the companies they own. The SEC's rules made it more difficult for Main Street and institutional investors, among others, to raise ESG-related issues with the companies in which they own stock.
"These changes will be most keenly felt in connection with ESG issues, which comprise the main subject matter of shareholder proposals, at a time when such proposals are garnering increasing levels of support," she wrote.
It's not as if companies are just waking up to the risks climate change poses to their earnings, profits, and long-term viability.
A recently released report by KPMG that studied climate risk reporting found about 40 percent of 5,200 companies reviewed worldwide acknowledge the financial risks of climate change in their reporting. Only 1 in 5, however, report those risks in line with recommendations made by the Task Force on Climate-Related Financial Disclosures (TCFD), which was established to "develop recommendations for more effective climate-related disclosures" within the financial system. There were bright spots, the report found, like how 65 percent of companies reviewed have carbon targets in place, and 69 percent connect their business activities with the United Nations Sustainable Development Goals.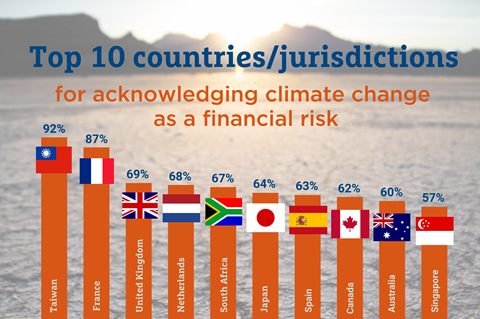 These signs may point to Biden using the SEC to push for more detailed ESG and climate change disclosures, said Mark Nelson, senior writer and analyst for the content and solutions provider Wolters Kluwer Legal & Regulatory U.S.
"But the scope and content of any future SEC ESG disclosure proposals will depend on the focus of Biden's overarching approach to ESG issues across the federal government, such as on climate change; who Biden nominates to lead the SEC; and the ability of any future SEC rules to withstand potential legal challenges," he said.
Under Clayton, the SEC pushed a principles-based approach on enforcement, meaning the regulator often left some wiggle room for companies making disclosures by loosening some requirements for public companies under Regulation S-K and relaxing conflict-of-interest rules for independent auditors under Regulation S-X.
Regulation S-K and S-X "are two of the prime regulations that impact public company disclosures," Nelson said, and the SEC could either issue new guidance, which can be done more quickly, or pursue the more time-consuming task of rulemaking.
"Perhaps a bigger question is how quickly the SEC might return to these regulations in light of the many amendments, including on human capital, that were adopted within the past year or so as part of a longer running revamp focused on disclosure effectiveness that has spanned multiple administrations," he added.
During either process, the SEC could define ESG for all regulated entities, which would provide a foundation on which companies could base their disclosures, said Anne Sherry, a writer/analyst at Wolters Kluwer.
"It will be interesting to see what happens with nailing down exactly what ESG means," she said. "The SEC under Clayton resisted defining ESG as part of its overall preference for principles-based disclosure, but Democratic commissioners and legislators, including Sen. Elizabeth Warren, want uniformity so that investors can draw comparisons between companies."
"A Democratic-majority SEC is likely to call for specific, data-driven disclosure in the areas of climate impact, human capital, and diversity," Sherry added.

Aaron Nicodemus covers regulatory policy and compliance trends for Compliance Week. He previously worked as a reporter for Bloomberg Law and as business editor at the Telegram & Gazette in Worcester, Mass.
View full Profile