Nearly a year to the day Elad Roisman was named acting chair of the Securities and Exchange Commission (SEC), the Republican commissioner has notified President Joe Biden of his intention to resign from the agency by the end of January.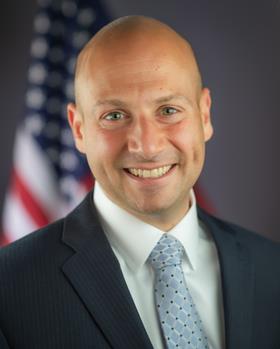 Roisman announced his decision Monday, bringing to a planned end his nearly 3 1/2-year stint at the SEC. He was sworn in under former President Donald Trump in September 2018 to a term not set to expire until 2023.
Roisman led the agency as chair on an acting basis for a month from Dec. 24, 2020, to Jan. 21, 2021, when he was replaced by his Democratic colleague Allison Herren Lee a day after Biden took office.
"Serving the American people as a commissioner and an acting chairman of this agency has been the greatest privilege of my professional life," Roisman stated. "… Over the next several weeks, I remain committed to working with my fellow commissioners and the SEC's incredible staff to further our mission of protecting investors; maintaining fair, orderly, and efficient markets; and facilitating capital formation."
Since Gary Gensler took over as chair of the SEC in April, the composition of the agency has skewed 3-2 in favor of Democrats. As a result, Roisman and fellow Republican Commissioner Hester Peirce have often been on the losing side of key policy decisions in their dissents.
During the course of one day last week, Roisman filed three dissenting statements as the agency announced new proposed rules on security-based swaps, money market fund reforms, and share repurchases.
"I'd like to thank Commissioner Roisman for his dedicated service to the Commission and to the American public, both as a commissioner and as acting chairman," said Gensler in a statement Monday. "While we didn't always agree on policy matters, I've come to rely on his judgment and expertise, and I have enjoyed a positive working relationship with him."
Commissioner Roisman's work has benefited investors, the capital markets, the SEC, and our nation. I cannot overstate the privilege of serving alongside someone so humble, hard-working, patriotic, and principled. https://t.co/TjoKymy12U

— Hester Peirce (@HesterPeirce) December 20, 2021
Roisman joined the SEC from the U.S. Senate Committee on Banking, Housing, and Urban Affairs, where he served as chief counsel.
Biden can't name a Democrat to replace Roisman at the SEC, as the agency must not have more than three commissioners belong to the same political party. Any individual nominated to the position will need to be approved by the Senate.

Kyle Brasseur is Editor in Chief of Compliance Week. His background includes expertise in user personalization with ESPN.com.
View full Profile