Nearly two-thirds of compliance professionals said their businesses are bracing for an economic recession and the financial turmoil it could bring, according to Compliance Week's "Inside the Mind of the CCO" survey.
About 64 percent of respondents said their companies were anticipating a recession and already implementing cost-cutting measures. One chief compliance officer from the healthcare industry said their organization was "actively looking for cost reductions," while a compliance manager in technology said their business was undertaking a "review of all current processes."
"(We) must show a 'Wall Street' ability to sustain profitability during a recession," commented an information security officer from a consultancy.
About 64 percent of survey respondents said they felt their jobs were safe from being in jeopardy, should there be a recession. Multiple comments cited regulatory requirements for businesses to employ compliance personnel.
"For now, compliance is insulated from broader recession-related cuts," said a chief ethics and compliance officer from the pharmaceuticals space.
"No one else in the company has the knowledge and the skill set I do, and nobody likes doing what I do," remarked a director of compliance from manufacturing.
Only 8 percent felt they could lose their jobs if a recession manifests. The remaining 28 percent weren't confident one way or another, citing the uncertainty of the global business landscape.
"Less staff means not only my job on the line but everyone's job is on the line," a chief diversity officer from an unspecified industry shared.
"It is very unclear," echoed a securities risk manager.
Asked what efforts are underway in their compliance departments to prepare for a potential recession, 34 percent of respondents said their organizations have already or plan to reduce headcount.
"(The) likelihood that I will be (laid off) is minimal, but one of my peers will be impacted," noted a vice president of compliance from insurance.
Eric Young, senior managing director at Guidepost Solutions and adjunct professor of ethics and compliance at Fordham University School of Law, said in his more than 40 years of experience, compliance departments are vulnerable to job cuts during a recession.
"When there is intense pressure by analysts and shareholders for firms to produce and maximize profits and share price in recessionary times, expenses, including headcount, and other costs are aggressively cut to the bone," Young said. "Firms, including banks, continue to view second-line-of-defense compliance functions as 'overhead expenses,' rather than proactive, long-term, and necessary 'investments.'"
Regarding cuts to compliance, 43 percent of survey respondents said their businesses have implemented hiring freezes and/or that new initiatives, like implementing technology, have been halted.
One healthcare director of compliance remarked their organization is engaging in cost reductions, "starting with technology. We are striving to avoid layoffs."
About 22 percent of respondents were expecting reduced bonuses.
"Budget freeze, role relocation, and releveling," said an associate general counsel of the actions their technology organization is taking.
More than half (53 percent) of respondents said they are already working with smaller compliance budgets, which might affect travel and training.
One chief risk officer said their technology firm was "reducing low-margin customers (and) business components," meaning "we stop doing certain things."
About 17 percent of respondents said their organizations have cut back on onboarding third parties and suppliers.
"My core role and function would be secure. Some of my vendor support would be where the cuts would occur," shared a director of compliance from the insurance industry.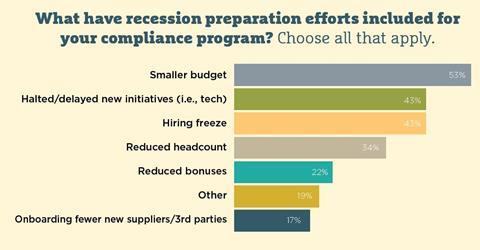 Compliance professionals anticipated disruptions at their organizations should a recession emerge, most notably among supply chains and third parties (41 percent) when asked to select up to two from a provided list of answers. Other popular options included setbacks regarding corporate culture (30 percent), operations (28 percent), and combating fraud (27 percent).
Cutting compliance staff and budgets "means placing blinders on the corporate and board oversight of conduct and compliance," Young said, adding there's correlation between recession cutbacks and an increase in "unethical behavior, misconduct, accounting improprieties and fraud, and legal and regulatory violations."
Other anticipated disruptions included to global business (26 percent), sustainability efforts (20 percent), and cybersecurity controls (14 percent).

Adrianne Appel writes regulatory news, policy, and trends for Compliance Week. She previously reported about policy developments for Bloomberg Law and Bloomberg Government.
Inside the Mind of the CCO, Year 4
1

2

3

4

Currently reading

Compliance budgets, staffing brace for impact of recession prep efforts

5

6

7