The compliance career path has never been a straight line. It's not like medicine, for example, where you know early on you're going to be spending a lot of time and money learning to become a doctor. And once you become one, you spend the rest of your working days practicing medicine.
With compliance, the road is much more circuitous. There are many tracks to a career in compliance: a staff reshuffling after a company recognizes an unmet need or new priority, a practicing lawyer deciding to move "in house" after unhappily working long hours at a big firm, an underutilized generalist having an ethical Come to Jesus moment, to name a few of the unmapped routes taken.
In fact, nearly 90 percent of the 290 respondents to Compliance Week's first annual "Inside the Mind of the CCO" survey started their careers in a field other than compliance. When asked what drew them to the profession, 40 percent said they ended up there as a "happy accident." Close to 27 percent indicated "doing the right thing for the right reasons" was their path, with an additional 24 percent moving to the field after starting out in law in a different capacity. Just 5 percent said money and advancement potential were their primary motivations.

That being said, compliance pays well, especially for those who rise to the top: Survey respondents' average annual compensation was $188,000, but for practitioners who identified themselves as CCOs or CECOs (32 percent of all respondents), the average compensation jumped to $250,000.
Our survey, however, wasn't just about motivation and money. We set out to discover what makes the CCOs of today tick—from the things that keep them up at night to how they go about making the difficult decisions they earn the big bucks to make to the skills and behavioral attributes they share.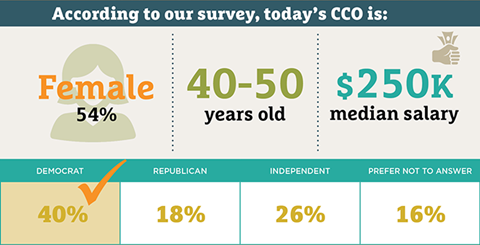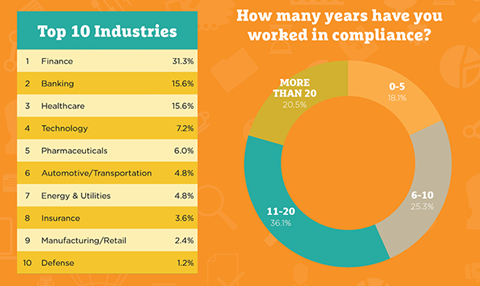 Most common causes for concern
CCOs' top three worries, according to the survey data, are a lack of support and resources, keeping up with regulatory policies, and data privacy/cyber-security. A close fourth was dealing with the demands of the C-suite and board. At least one compliance veteran believes that fourth answer should be closer to the top of their minds.
"What would or could or should keep compliance officers up at night is that they have a leadership team that views their program as a necessary evil, because that is what drives the lack of resources and senior-level support," says Carrie Penman, who's been in this business since the mid-1990s and is currently the CCO at NAVEX Global.
Matthew Pachman, a member of CW's Top Minds Class of 2019 and chief risk and compliance officer at FTI Consulting, would add "fear of the unknown" to that list. "That can be the fear of what is going on within a large organization, where you just don't have visibility into everything, or the fear that you are missing an applicable law or regulation from some distant place that will come back and bite you," he says.
How they make the tough calls
We've all been in situations that require difficult, well-reasoned decisions. And in these scenarios, there's not always a clear right or wrong answer—no black or white, just shades of gray. CCOs find themselves in these conundrums more often than most (again, it's why they make the big bucks). So how do they make these tough calls? Do they rely more on their brains (think regulatory and legal knowledge and training) or their gut instincts (knowing intuitively between right and wrong)?
We asked them that very question, and it turns out that brain (58 percent) wins out over gut (42 percent) for most. That's not to say, however, that in a real-life scenario, they can't turn to both to find their answers.
"I do think that we need to be able to substantiate or support recommendations that we make, but I believe very strongly in my gut instinct," Penman says.
"Process is very important to compliance, but I'm always a believer in substance over form," says Audrey Harris, former CCO for global resources company BHP and now a partner at law firm Mayer Brown. If the process doesn't make sense in a given situation, "I'd say turn on your brain and turn on your gut and figure out why it doesn't," she says.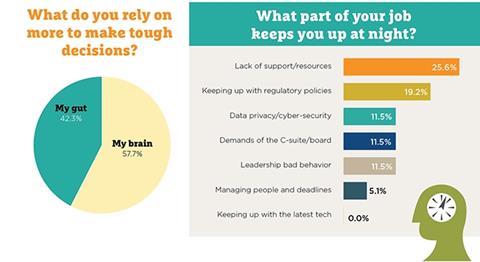 Moreover, relying on strictly your knowledge of rules and regulations implies there is a right answer and a wrong answer, but that's often not the case, especially when the company's reputation is at stake.
"When we talk about reputational issues, there is rarely a black-and-white answer," Pachman says. "You really have to think about, 'What do I think is the right answer here? Is this issue within our risk tolerance? Is it outside our risk tolerance? Is it within our view of what is ethical or moral?' " Answers to those kinds of questions have more to do with gut instinct and moral compass than anything else.
The survey also presented CCOs with a hypothetical scenario in which an employee asks whether they can take an action "that is ethical and logical but technically breaks a rule." Among CCOs, 44 percent took a hard line, indicating they'd tell the employee they cannot break the rule. Thirty-two percent would give them the OK to break the rule, but they'd document the exception and perhaps re-evaluate the rule. The final 24 percent passed the buck, saying they would seek advice from legal counsel or the C-suite.
"You have to look at every situation and ask, 'What are we really doing here?' " Pachman says. "Maybe you can't advise someone to break the rule—but at a minimum, if you're doing your job, you should then be looking at the rule and asking, 'Does the rule itself make sense? Should we be either changing the rule or documenting appropriate carveouts that allow for appropriate beneficial ethical behavior?' Because a rule
that is too rigid to allow appropriate beneficial ethical behavior may not be well-crafted."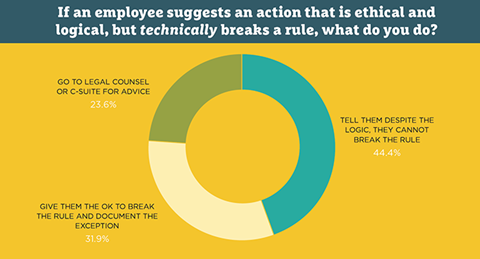 The survey findings further revealed trust is paramount among CCOs: When asked about making a hiring decision, 54 percent said they'd choose a candidate they've worked with in the past "who might not be ideal but who I know can handle most job tasks and trust explicitly." The other 46 percent said they would hire a candidate that was recommended and who seems to have the right skills and qualifications to handle the job … but inherently comes with the risk of the unknown.
The skills they value the most
The role of CCO has expanded greatly since compliance's early days, which means today's practitioners need more tools in their toolbelt than ever before. As for which tools (skills) come in handy most often, CCOs voted these as their clear top five: ability to stay organized, leadership, legal knowledge, patience, and the ability to motivate others.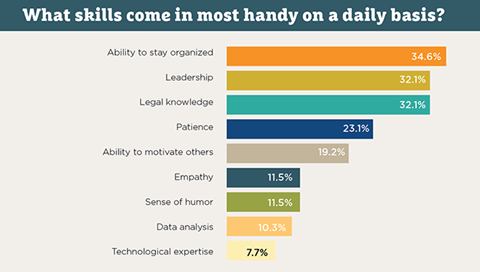 "So much of running a good compliance program is juggling a lot of balls and keeping track of all of them and making sure that nothing falls," says Pachman. "Without good organizational skills on this job, I think you're going to have a very tough road."
Organizational skills are also critical because the CCO role is ever-evolving, not just externally with the changing regulatory environment, but also internally as it concerns the unanticipated, day-to-day requirements of the job. Thus, part and parcel with organizational skills is flexibility and adaptability.
"As a subset of being organized, you really have to be able to prioritize and decide what is most important to you and what is important to the company," says Steve Naughton, another Top Mind award alum and former CECO at PepsiCo and Kimberly-Clark. He is now a senior adviser with StoneTurn, a global advisory firm. Relating to leadership, persuasion, and collaboration skills are also important, he says.
Let's not forget about legal and regulatory knowledge, the third-ranked skill and the backbone of a CCO's decision-making process—especially in highly regulated industries. Nearly 70 percent of CCOs surveyed have an advanced degree, with nearly half of that group holding a JD.
In digging into a CCO's internal motivations and deepest fears, decision-making process, and most-valued tools, we've determined this is a pretty difficult job.
So we come, then, (circuitously, of course) to perhaps the most telling takeaway from our "Inside the Mind of the CCO" survey, the one that arguably best demonstrates the depth of character and level of passion this group possesses:
Nearly 90 percent of them say they enjoy their jobs.

Jaclyn Jaeger is a freelance contributor to Compliance Week after working for the company for 15 years. She writes on a wide variety of topics, including ethics and compliance, risk management, legal, enforcement, technology, and more.
View full Profile