Compliance professionals will be most focused on addressing cybersecurity and regulatory compliance risks contained within their third-party relationships this year, according to the results of a new survey from Compliance Week and Dun & Bradstreet.
Out of 179 total respondents to the "State of Third-Party Risk Management in 2023" survey conducted online between October and November, 41 percent said cybersecurity was their top risk management priority. Second was regulatory compliance at 27 percent, followed by supplier risk at 15 percent; environmental, social, and governance (ESG) at 9 percent; and combating business fraud at 8 percent.
Approximately 37 percent of respondents said ESG was the least of their concerns of those five issues, followed by combating business fraud at 29 percent.
Another question asked which compliance-related area would be most important in 2023. Cybersecurity was the clear favorite among options provided at 65 percent, followed by anti-bribery/anti-money laundering (13 percent), climate-related risk disclosures (12 percent), and ISO frameworks (6 percent).
"Fraud peaks under times of economic stress. That's when good people do bad things. From my point of view, it's going to be a tough year for fraud."

Brian Farley, VP, Business Segment Manager, Third-Party Risk and Compliance, Dun & Bradstreet
Survey respondents represented industries including financial services (19 percent); healthcare (8 percent); manufacturing (6 percent); real estate, education, and technology (all 5 percent); and automotive, food and beverage, retail, pharmaceuticals, construction, and government (all 3 percent).
That cybersecurity is the top concern in assessing third-party relationships does not come as a surprise, said Paul Westcott, Dun & Bradstreet's product director for know your customer/know your business (KYC/KYB).
"Cybersecurity can become a large reputational risk," he said. "The results of a cyberattack can appear in the media much more quickly than many other types of risks."
Regulatory compliance in 2022 was increasingly complicated by Russia's war against Ukraine, a trend likely to continue in 2023. Many countries are continually adding companies and individuals to sanctions watchlists, creating a regular stream of potentially problematic new connections to third parties.
The key with assessing the risks these events pose is to determine ahead of time whether certain changes in your firm's relationships with particular third parties are material to your operations, Westcott said.
Survey respondents, when asked which third-party data they are most reliant on to assess their business relationships, said financial (55 percent), company principals/employees (52 percent), legal (50 percent), watchlists and sanctions (40 percent), and corporate linkage (31 percent). Respondents could choose more than one type of data. Less popular answers included firmographic/corporate entity and ultimate beneficial ownership, which both came in at 22 percent.
Some firms are moving away from only using data to drive decision-making about their partners and vendors, which can track patterns that are not material to the business relationship, Westcott said. Instead, they are transitioning to an event-based model, in which a change of ownership or significant shift in business model are more relevant, he said.
"It's determining how material that risk is to my organization, in context to all of the other risks," he said.
ESG being ranked so low by survey respondents is likely because of multiple factors in the market, said Brian Farley, Dun & Bradstreet's vice president, business segment manager, third-party risk and compliance.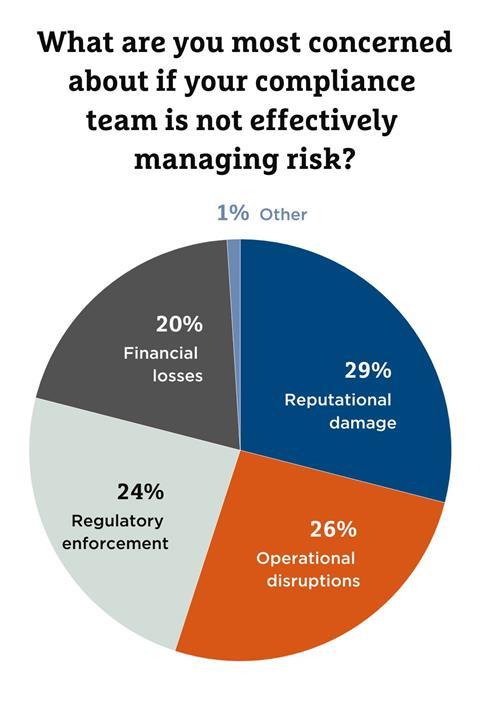 The first factor is companies are bracing for a recession, and efforts to measure, for example, the greenhouse gas emissions of suppliers, are being pushed off.
Another factor is while regulators in Europe have begun requiring ESG-related disclosures, the climate-related disclosure rule proposed by the U.S. Securities and Exchange Commission has not been finalized.
"The regulatory framework isn't baked yet. People don't want to invest in something, then learn they need a totally different solution," Farley said.
Survey respondents said reputational damage is the most important consequence for not managing third-party risk (29 percent), followed closely by operational disruptions (26 percent), regulatory enforcement (24 percent), and financial losses (20 percent).
More than half of survey respondents (54 percent) reported increasing vendor/third-party due diligence in response to global disruption, while 45 percent reported increasing their ongoing monitoring of their third parties. Respondents could choose as many responses as applied. Nearly two in five (39 percent) reported an increased reliance on risk data and analytics to drive decision-making. Only 18 percent reported no change to their third-party risk management priorities because of global disruptions.
When asked to choose all the ways their firm has reacted to increased scrutiny of sanctions compliance, one in three respondents said they invested or planned to invest in more standardized/actively monitored data. Nearly as many respondents (30 percent) reported their firms had enhanced screening technology or implemented new sanctions compliance programs. Other responses included increasing sanctions screening frequency (29 percent) and ending high-risk relationships (22 percent).
Nearly a third (29 percent) of respondents said their business had not been impacted by sanctions.
One question asked respondents if they have seen an increase or decrease in business-to-business fraud in the past year. More than half (55 percent) said they experienced no change. Nearly a third (32 percent) said it increased moderately. Six percent said such fraud increased significantly, while 7 percent said it was decreasing.
"This surprised me a little bit," Farley said, particularly since there are signs of a recession coming in 2023. "Fraud peaks under times of economic stress. That's when good people do bad things. From my point of view, it's going to be a tough year for fraud."

Aaron Nicodemus covers regulatory policy and compliance trends for Compliance Week. He previously worked as a reporter for Bloomberg Law and as business editor at the Telegram & Gazette in Worcester, Mass.