The good news for companies is, by and large, work productivity has been impervious to the strain of the coronavirus pandemic, according to a recent survey from Skillsoft and Compliance Week.
Eighty-six percent of 180 respondents across compliance, risk, and audit are currently working remotely at least most of the time (hereafter referred to as "telecommuters"). More than three-quarters of telecommuters (78 percent) say they are equally or more productive working from home, with only 19 percent saying their work output has waned. Poor collegiality hasn't seemed to be a rampant problem either. The vast majority of telecommuters (79 percent) say they have not seen a rise in inappropriate conduct or communications on messaging platforms or video meeting applications since the workforce went remote last spring.
Sound too rosy to be true? There are those who agree.
"Twenty-one percent of respondents did see an increase in inappropriate conduct from what they normally would have noticed in an office setting. That is still a significant difference in some ways," points out Janiece Attal, legal compliance product manager at Skillsoft. "The reality is that problems are on the rise probably more than what has been reported. An employee is no longer in a situation where they can leave their desk and walk into the HR department. Employees are at home and may not know what ways they are able to report that misconduct."
If a company's work culture is toxic to begin with, that toxicity will only manifest into antagonistic online behavior in a remote work setting. CNN published an article in September enumerating certain factors that exacerbate this tendency with a remote workforce: overwork, under-recognition, morale depletion, and the fact that information often gets lost in translation when individuals interact without the aid of intonation or face-to-face communication.
How should companies address a rise in misconduct, however small, while fully remote?
"Each company should do an internal assessment on a case-by-case basis. Legal counsel and HR should be involved. The company needs to have an idea of what misconduct may be going on to prevent it from occurring and recurring. It's also important to communicate [with employees] about what steps the company is taking," says Attal.
Fortunately, most employees are carrying on in the face of 2020's unique challenges, maintaining workflow and professional conduct while upholding responsibilities at home. (Forty-one percent of all respondents have at least one child under 18 in their household, and 40 percent of those individuals identify as the primary caretaker.)
Employers are holding their own in the eyes of their employees, as well. A majority of respondents say their employer has supported them enough to be successful in working remotely (88 percent). Given how fast companies were forced to accommodate telework, this is a commendable finding. The survey results also suggest that if remote work continues into 2021, however, employers will want to up their game. Companies must adopt a more proactive approach to checking in on employees working from home indefinitely.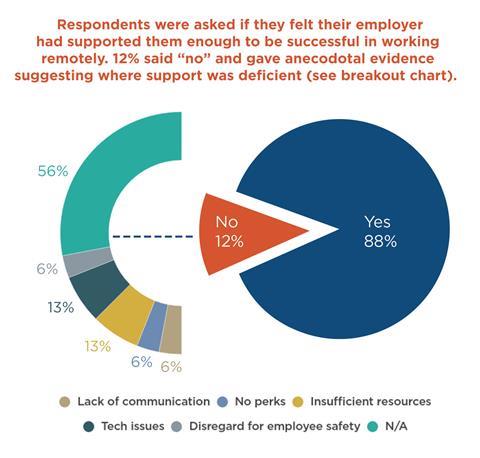 More than half of telecommuters (52 percent) say their company has not provided additional training designed for remote work on certain prescribed topics. Only about a third of respondents say they received training on IT security (35 percent); only 3 percent received anti-harassment and bullying training for remote work settings; and just 1 percent received home office accident prevention training.
"The need for training is particularly important right now," explains Alison von Gruenigen, environmental health and safety product manager at Skillsoft. "When you look at cost, studies show that a dollar investment in safety programs yields between a two- and six-dollar return, according to the American Society of Safety Professionals. ROI [return on investment] is high because what is costly is the direct and indirect costs of an illness or injury."
Remote work will remain the status quo for the foreseeable future, or at least that is the overwhelming perception of respondents: Just over a third (35 percent) of those surveyed predicted they wouldn't return to the office until early-to-mid 2021, and another 37 percent wouldn't even venture a guess. If companies haven't already done so, it would behoove them to support employees in setting up home workstations for optimal comfort and performance. The vast majority of respondents (87 percent) say their companies have not asked them to conduct a home office ergonomic self-assessment.
So, what resources should a company offer its employees? There are online office ergonomics classes that are inexpensive, and there are survey tools that are "a great way to reach out to employees," von Gruenigen says. A company could send out a survey to 500 employees asking whether they had any ergonomic concerns about their home office; it could collect that data, and then safety professionals could follow up.
"What's really important is that the data is housed in one place," says von Gruenigen.
All that documentation is useful in legal compliance. A home office survey is "a way to have employees acknowledge that they viewed the company's policies," says Attal, "by collecting an electronic signature."
What are the risks a company runs by burying its head in the sand?
"Lack of motivation, lack of productivity. If you're not communicating and providing support, then you're probably not getting the most out of your employees. A healthy, happy employee is more productive," explains von Gruenigen.
And although a home office is something of a gray area from a legal standpoint, there are costs that could be associated with injuries, like "workers compensation insurance; potential litigation; and a company's reputation, which weighs heavily," von Gruenigen adds.
For now, most individuals are willing to go with the flow. But for the 12 percent of respondents who say their employer has not done enough to support their remote work situation, their anecdotal comments reveal some sources of their disgruntlement. For many, it is technology-related. Some complain of access issues while others bemoan a lack of equipment, precluding them from carrying out their job functions adequately.
"On first glance, access to data and networks are fine, but knowing what to look for and where is a struggle. Others struggle to do their job at home due to kids hanging around, lack of home-office facility, and lack of quality IT," says the CEO of an organization in the energies and utilities industry.
"Technical support is insufficient to keep systems and hardware running effectively; no accommodations were made to maintain security compliance; no accommodations made for people who do not have space/furniture/internet access at home to work in/on/with. [The] expectation is to use one's own internet and phone service without compensation from the company," argues a compliance manager in business services.
"Prior to the pandemic, my employer was strictly a 'no work from home,' even for a day. As such, they were totally unprepared to have virtually the entire workforce transition to WFH [work from home]. They still have not addressed equipment/supplies fully. In my opinion, [they] have not addressed cyber-security/data privacy fully," says a director of compliance in the education sector.
Where should companies start if they find themselves in such a situation?
"I'd probably start with cyber-security, data privacy," recommends Attal. "You have a lot of people who aren't sure how to work outside of the office, and that's something companies need to consider. Employees could be releasing information that they shouldn't be.
"From there, each organization will need to do their own assessment. Definitely involve HR and the legal team in the conversation about what employees should be provided. Some companies are enduring economic hardships due to the pandemic right now, so that's something each will have to figure out on a case-by-case basis."
Perhaps it's no surprise, given these home office complications, that the majority of respondents would prefer to get back to the office as soon as it's safe and feasible. Eighty-eight percent of telecommuters imagine they will definitely be returning to the office post-pandemic; nearly a quarter of that group (23 percent) plan to return to the office full-time, while 62 percent say they would want to return part-time.
What is drawing people back to office life? Human contact. The greatest challenge of working remotely cited by telecommuters is missing in-person interaction and collaboration.
In fact, a good chunk of respondents indicate they would return to the office now if they could. Some 36 percent of telecommuters say it is their company policy holding them back from returning. That, however, is not the most popular response. Forty-three percent cite personal safety (in office or on commute) as their No. 1 deterrent.
The survey not only reflects a clear diversity of opinion about when the appropriate time would be to return to work; it also exposes the complicated breadth of health factors—both theirs and members of their household—underlying people's thought processes about returning to office. More than a quarter of telecommuters (26 percent) identify as high-risk candidates for COVID-19, and 38 percent say they live in the same household as someone deemed high risk.
Companies need to "look toward EEOC [Equal Employment Opportunity Commission] guidelines," says Attal. "It's about reasonable accommodation. … As long as it's not an undue hardship, the guidance says the company has to provide the employee with a reasonable accommodation."
Remember flexibility and grace. "I think [the COVID-19 crisis] was a surprise and that companies took initial steps and then probably took a deep breath because they'd overcome the first hurdle," reflects von Gruenigen. But to their credit, companies are "still evolving. …This assessment of identifying and addressing risks is ongoing, because everything is still so dynamic."

Aly McDevitt is Data & Research Journalist at Compliance Week. She has a background in education and college consulting. Prior to teaching, she was an editor/author at Thomson Reuters.
View full Profile