Mandatory training can be a difficult topic to broach with staff, who carry with them memories of low-budget health and safety videos or generic e-learning compliance modules with little interaction. Employees know it must be completed, often with consequences for failure, but obtain and remember little else.
The International Compliance Association (ICA) is a professional membership and awarding body. ICA is the leading global provider of professional, certificated qualifications in anti-money laundering; governance, risk, and compliance; and financial crime prevention. ICA members are recognized globally for their commitment to best compliance practice and an enhanced professional reputation. To find out more, visit the ICA website.
To change perceptions on training, a culture shift is needed to demonstrate to employees that it can not only be engaging but actually useful, enhancing their ability to carry out their role. How do you get employees to embrace training and, more importantly, use the knowledge and skills learned in their daily roles?
In a previous insight article, the ICA outlined four key questions to consider when developing anti-money laundering training. Once you have understood the fundamentals—the requirements of the business, the learning needs of employees—the real fun can begin in designing the training.
Choosing the right tool
It's useful to consider training as a toolbox; your role is to deploy the most effective tool depending on the requirements.
Do you need training that delivers knowledge, is easy to administer, and provides an audit trail? Self-led digital learning could be the best solution.
Digital learning is a broad term that essentially encompasses training that utilizes technology. The traditional e-learning field has moved on significantly since the early days of clicking through slides. Training is now available that looks and feels like an interactive Website, delivering bite-sized pieces of knowledge to suit the individual's learning style. And there are myriad ways to make self-led digital learning more engaging.
Educating employees on financial crime is of course vital, but employees might need help in drawing the connection between knowledge of financial crime and the application of that knowledge in their day-to-day role. Sometimes there is a gap between what people know and their ability to apply that knowledge. Quite often, a different tool may need to be deployed to fill in this gap.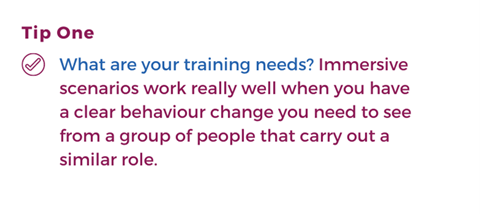 When the learning needs relate to a specific requirement, such as a tangible behavior change from employees, experiential learning may be the most appropriate option.
Training with impact
Experiential learning is simply learning through experience. It is more than just "learning by doing"—it is being given the opportunity to reflect.
Scenarios can be created that are similar to a learner's real-world experience; facilitated sessions where the facilitator creates a safe learning environment allows learners to practice and apply their skills without the consequences of real life.
Learners are introduced to a scenario and immediately become involved by being given a clear role: Your colleague has escalated negative news to you—what is your assessment?
This moves away from delivering knowledge in a classroom setting to encouraging employees to learn for themselves, actively constructing their own knowledge. The facilitator acts as the coach, encouraging learners to reach the "correct" conclusions and helping them learn from their decisions.
Sample documentation can be created to give learners the opportunity to review the information (e.g., negative news articles) and make judgements. Such scenarios can be effectively deployed in a face-to-face classroom or in a virtual classroom environment.
Immersive scenarios
The scenarios are limited only by imagination and the time permitted to work through them. Stories can develop as you take learners through a customer lifecycle, from onboarding to escalations. These "customers" look and feel like a typical customer of the business.
The right story can viscerally engage learners, capturing both their hearts and minds. Stories are what we respond to, casting ourselves in the narrative and imagining our own actions and responses to the stimuli that affects our characters. Stories are visceral, immediate, and, when well done, go straight to the heart. This makes them an extremely effective way of learning.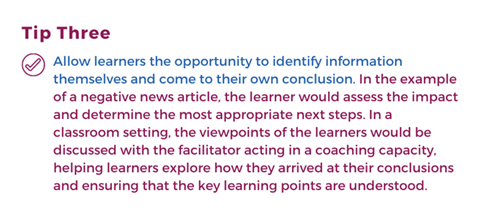 Encouraging learners to share their experiences and how they approached a challenging situation helps cement the learning and allows employees an opportunity to glean insight from their peers. It gives learners a chance to reflect on these experiences and consider how they may have approached situations differently.
The International Compliance Association is a sister company to Compliance Week. Both organizations are under the umbrella of Wilmington plc.