For the second straight year, our "Inside the Mind of the CCO" survey found that more females than males identify as either chief compliance officers or chief ethics and compliance officers, though men in those positions made an average of 17 percent more than women—a reversal of a surprising trend in last year's data.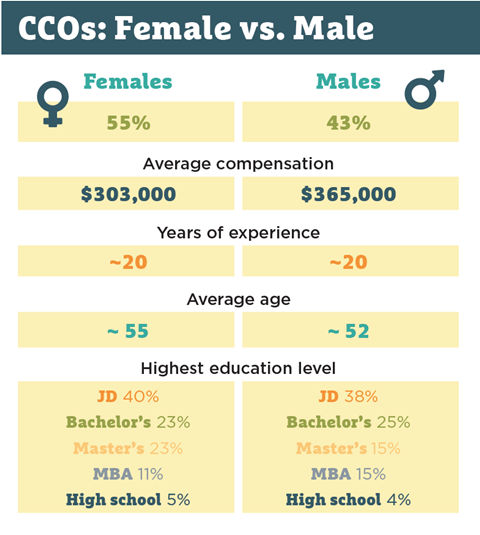 Females made up 55 percent of the 120 practitioners surveyed who said they were either CCOs or CECOs, compared to 43 percent who were male (2 percent chose not to say). On average, those women made $303,000 annually in total compensation—about the value of a loaded Land Rover, but less than the $365,000 average compensation made by men with those same job titles. Last year's survey results revealed that female CCOs made a bit more than their male counterparts.
Our data can't explain the year-over-year reversal in fortunes, but the 2020 data is more in line with national statistics on the pay disparity between men and women. On average, women make about 80 cents for every dollar men make, a trend that almost exactly mirrors the 20 percent difference between average female ($229,000) and male ($285,000) compensation we found among all 300 survey participants. Among all participants last year (not just CCOs), men made an average of 5 percent more than females.
Two senior-level compliance officers and one ethics-focused academic researcher—all female—had similar reactions when presented with the data: The pay disparity between men and women in compliance is disappointing, but not surprising.
"Particularly in this day and age, we would expect the world to be doing better," said Mary Shirley, senior director of ethics and compliance at Fresenius Medical Care North America and co-host of the "Great Women in Compliance" podcast. "However, I would also expect there to be racial justice."
Because of the way promotions and pay raises have historically been negotiated (based on a bump from a person's previous salary), perhaps some of the pay disparity we still see today is at least in part due to the inequalities that existed decades ago and have carried on. States with laws that ban employers from asking about job applicants' past earnings have helped reduce that disparity among women and minorities in particular, according to a recent Boston University study.
Shirley points to the advice of an HR thought leader she often sees on LinkedIn: Instead of telling a potential employer what you made, tell them what you expect to make in your next position.
"I think, for ethical reasons, we should pay people what they are worth," she adds. "And given that we're in the compliance industry, we are supposed to be paragons of virtue when it comes to ethics. So why can't we be a great place to start and be role models for other industries?"
Besides being male, there were other "qualifications" that lend themselves to higher annual compensation, our survey found. Practitioners who had a law degree made an average of $390,000, about 35 percent higher than the overall group average ($253,000). And those who worked for large companies (more than 10,000 employees) made about 24 percent more than those who worked for companies with less than 1,000 employees. Among all job titles listed, only CEOs and general counsel made more on average than CCOs or CECOs.
It also turns out that having "ethics" in your job title pays: CECOs ($399,000) made an average of 22 percent more than CCOs, though our sample size was much larger for CCOs (91) than it was for CECOs (29). While our sample size for CECOs was small, it was considerably larger than last year, when we had just 11 CECOs among our survey respondents.
Software giant NAVEX Global Chief Risk and Compliance Officer Carrie Penman found it "heartening" to learn that those with "ethics" in their titles had more earning power.
"Those who have ethics in their title have more responsibility for culture, perhaps," she said. "And, so, the companies that are putting more emphasis on organizational culture are willing to pay more because they recognize the strong correlation between an ethical culture and compliance."
Another way to look at it is a focus on ethics represents a more strategy-focused role, and thus one that requires a higher-level practitioner.
"If you're a chief compliance officer your job is compliance—to make the firm comply. If you're the chief ethics and compliance officer, your job is to think about the organization's ethical commitments, both legal and voluntary, in a more strategic way," says Alison Taylor, executive director of Ethical Systems, a research collaborative that is part of NYU Stern School of Business. "So maybe what is happening is that things have evolved, that the job title in itself denotes a certain way of thinking about ethics—it's a little bit more strategic, a little bit more executive level that goes with more pay."
Practitioner profiles at a glance
As part of our analysis of the salary-related data, we created three "compliance snapshots," profiles of practitioners at varying points in their careers.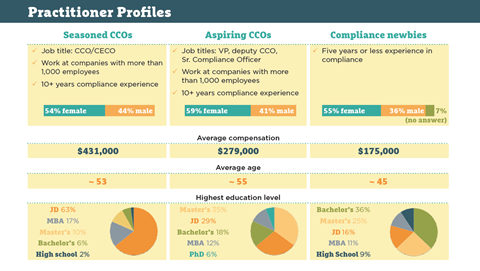 The first one we filtered our data for was a "seasoned CCO"—someone with a CCO or CECO job title, more than 10 years of experience in compliance, and working for a company that has more than 1,000 employees. This was our highest-earning group, making an average of more than $400,000 per year. Practitioners who fit this profile were an average of 53 years old and were more likely than any other group to have a law degree.
We also looked at "aspiring CCOs"—senior-level practitioners (not quite CCOs) with 10 or more years' experience in the field and working for companies with more than 1,000 employees. This group was largely male (59 percent) and made an average of $279,000 per year, about 16 percent less than the average CCO/CECO. This group was slightly older on average than our "seasoned CCOs" and much less likely to have a law degree.
Finally, we segmented our results by "compliance newbies," those with 5 or fewer years of experience. Understandably, that group made less than half of what our "seasoned CCOs" did and 37 percent less than the "aspiring CCOs" group. At an average compensation of $175,000, nevertheless, these newbies to the business aren't exactly struggling compared to the average worker in other industries. The data indicates these newcomers to compliance got their start on another career path before making the switch to compliance. The average age of these "newbies" is around 45 years old.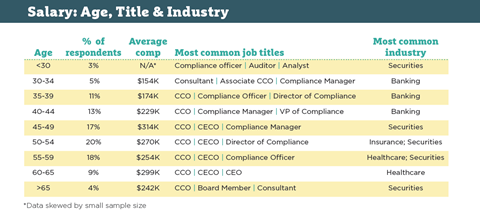 Other noteworthy findings
In a sign of the times, just over a quarter (26 percent) of practitioners surveyed indicated they've had to take a pay cut due to the COVID-19 pandemic. On average, that group reported making just 4 percent less than the overall cohort. About half (48 percent) of those who reported taking a pay cut were either CCOs or CECOs.
Of the 300 survey respondents, just 28 report yearly compensation of more than $500,000. We'll call this group "The 10 Percenters." Among this highly paid cohort, 61 percent are male, 54 percent work for companies that employ more than 10,000 people, 79 percent are either CCOs or CECOs, and 46 percent work in highly regulated industries (securities, pharma, banking, and healthcare).
Of particular note in this year's survey is that the overall compensation numbers were up across the board. Last year, the average respondent reported they made $188,000 annually. This year, that number is a whopping 25 percent higher. We attribute this to several factors: 1) Compared to last year, we received a higher number of responses from senior-level compliance practitioners. Whereas CCOs and CECOs made up 29 percent of respondents last year, they account for 40 percent this year. 2) Nearly 60 percent of this year's respondents reported having been in compliance for 11 years or longer. Last year, just 44 percent of respondents had been in the business that long. 3) Lastly, our methodology changed a bit from 2019 to 2020. Last year we asked people to give us their compensation as a range (example: between $100K-$149K), and we reached our average compensation numbers by using the middle point of each range. This year we asked people to enter their salary as a whole number, thus reducing the margin of error.

Dave Lefort is Managing Director of Compliance Week. Before joining CW, he spent nearly two decades in digital leadership roles with ESPN and The Boston Globe.