Compliance Week's first annual "Inside the Mind of the CCO" survey found that not only do more women than men identify themselves as chief compliance officers, they report slightly higher annual compensation than their male counterparts as well.
Of the 83 CCOs polled (36 percent of all practitioners surveyed), females earn an average of about 5 percent more per year than males: Around $253,000 compared to $241,000 for men. Women made up 54 percent of CCO respondents (which included those with the chief ethics and compliance officer title as well), compared to 45 percent men (1 percent didn't say).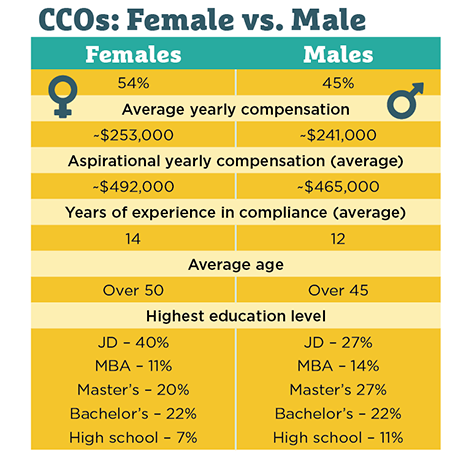 At least one practitioner was not surprised to see a larger percentage of women than men among our CCO survey cohort.
"I entered the field of ethics and compliance nearly 20 years ago and at one of my first industry conferences I remember looking around the room and thinking I could count the number of women in the room on a few hands," said Katie Smith, chief ethics and compliance officer at technology company Convercent. "Earlier this spring I was attending a similar conference and mentally noted that more than half the room was female."
"Because the role of compliance leader is multi-faceted, from compassionate listener to strategic advisor, it draws on the strengths that women inherently bring to the table."
How do we explain the gender income disparity, particularly in a day and age when women, on average, make 79 cents for every dollar men make? There are several factors that might account for the difference: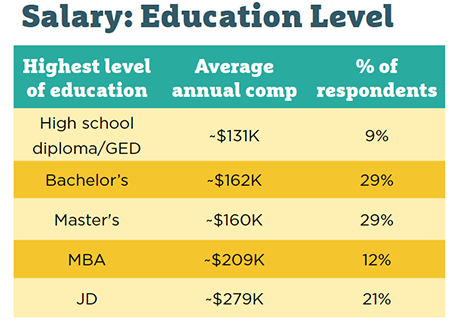 Among CCOs surveyed, women have slightly more experience in the compliance field (14 years compared to 12), are slightly older (over 50 as opposed to over 45 for men) and are more likely to have a law degree. Forty percent of females have a JD, compared to 27 percent of males. Overall, survey respondents (regardless of job title) with a JD have an average annual income that is about 30 percent higher than those who do not.
While the importance of compliance practitioners having a law degree has been de-emphasized in some business sectors, it's still an important requirement for CCOs in finance. More than 30 percent of all CCOs surveyed indicated they work in that industry.
"After the financial crisis (in 2008), we've seen areas within financial services really focus on building and augmenting their compliance infrastructure and upgrading the professionals that were previously administering those programs," says Michael Brogna, a managing director at the legal and compliance recruiting firm of Major, Lindsey & Africa who specializes in CCO and senior compliance officer placement within the finance industry. "There is an increased demand for compliance officers who possess their JD. As a result of that, many of our clients are looking to the law firms and often asking us to recruit straight from them."
While our CCO findings show women making slightly more than men on average, when we stepped back and examined all survey respondents, males had an edge in annual compensation. Among the 290 people who took our 25-question survey, men on average earn about $193,000 annually, 5 percent more than females, who average around $183,000. Females made up 52 percent of respondents.
Practitioner profiles at a glance
In digging a bit deeper into the numbers, we singled out CCOs who have 10 or more years of experience and work for companies with 1,000 or more employees (we'll call them "Seasoned CCOs"). Among respondents who met those criteria, 65 percent were female and 35 percent male.
On average, these executives earn around $317,000 annually, a 27 percent bump over the average compensation of the CCO group as a whole. This cohort was made up largely of people over 50 years old that had advanced degrees. Notably, 62 percent of them have JDs.
"A trend that I've seen evolve over the past 20 years is that, as compliance officers have gained more mindshare within organizations, they've been knocking down much, much bigger comp numbers," says Brogna.
Another group of survey respondents we singled out was practitioners in high-level positions (VP of compliance, director of compliance, deputy CCO, etc.) who have been in the field for more than a decade, work for large companies, and aspire to become CCOs. The average annual compensation for this group is close to $277,000; 60 percent of them are men.
The last faction we profiled are compliance newbies, those polled who have been in the biz for 5 years or less and have job titles like compliance officer, analyst, or consultant. Interestingly, these inexperienced practitioners were much less likely to have a law degree (2 percent) but much more likely to have a Master's (42 percent). These folks earn an average of about $87,000 per year.
Other noteworthy findings:
The peak earning years for compliance professionals seem to be between the ages of 55-65. Survey respondents in that age range report average yearly compensation of around $240,000, with about 50 percent of them holding a CCO position.
Of the 290 survey respondents, just 29 report yearly compensation of more than $400,000. We'll call this group "The 10 Percenters." Among this highly paid cohort, 55 percent are female, 76 percent work for companies that employ more than 10,000 people, and 45 percent are either CCOs or CECOs.
We asked all survey respondents to assign themselves a personality type from the Enneagram Institute's famous list of nine types of people. More than half (52 percent) of "The 10 Percenters" self-identify as The Achiever, indicating they are success-oriented and extremely driven. Among respondents who make less than $400,000 per year, just 17 percent dub themselves that type.
About 1 percent of all survey respondents say they aspire to one day make more than $1 million per year, which is quite a high bar, even for an industry that's in growth mode. The most common job titles in this group are CCO (22 percent), VP of compliance (17 percent), CEO (9 percent), and general counsel (9 percent). The folks in this segment—which was 52 percent male—have current compensation that is at both ends of the spectrum: 61 percent currently make more than $400,000, and 22 percent make less than $100,000.
Filtering our data to profile CCOs at companies that employ more than 10,000 workers, we found that 53 percent make more than $400,000. Not a single one indicated they were drawn to compliance by "money and advancement potential," but 25 percent aspire to make more than $1 million per year.

Dave Lefort is Managing Director of Compliance Week. Before joining CW, he spent nearly two decades in digital leadership roles with ESPN and The Boston Globe.