Walmart is planning to offer to the rest of the retail industry a chance to peer at its compliance controls as part of its efforts to address firearm safety following two recent shootings in its stores.
In an announcement from CEO Doug McMillon on Tuesday, Walmart revealed plans to restrict firearm sales and publicized other decisions it has made in hopes of making the retail space safer. Among the efforts was banning civilians from carrying firearms in its stores and a pledge to share its best practices regarding the sale of firearms.
"We are exploring ways to share the technical specifications and compliance controls for our proprietary firearms sales technology platform," McMillon said in the company memo. "This system navigates the tens of millions of possible combinations of federal, state and local laws, regulations and licensing requirements that come into effect based on where the firearm is being sold and who is purchasing it. We hope that providing this information, free of charge, will help more retailers sell firearms in a responsible, compliant manner."
As one of the world's largest retailers, Walmart touts an ethics and compliance program with more than 2,000 associates worldwide. How the company–often under the spotlight of regulators–tackles gun safety compliance is sure to provide an informative benchmark for other retailers that deal in the same areas.
Indeed, Walmart's announcement has already inspired others to come forward. Supermarket chains Kroger and Wegman's and retailers CVS and Walgreens are among those that have since asked customers to no longer openly carry firearms into their stores.
Changes at Walmart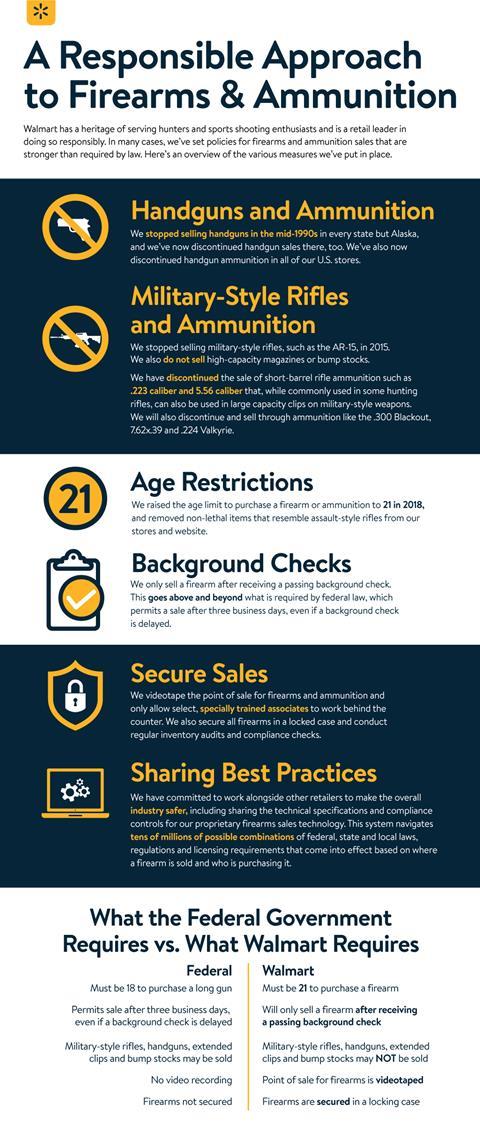 Last month, a gunman entered a Walmart in El Paso, Texas, and shot 46 people, killing 22. A second, unrelated shooting early the next morning in Dayton, Ohio, killed nine people. Just a few days prior, two Walmart employees were killed by another employee at a store in Southaven, Mississippi.
"We want what's best for our customers, our associates, and our communities," McMillon said in his memo. "In a complex situation lacking a simple solution, we are trying to take constructive steps to reduce the risk that events like these will happen again. The status quo is unacceptable."
McMillon added that Walmart has "been giving a lot of thought to our sale of firearms and ammunition." Previously, for example, Walmart decided to stop selling handguns or military-style rifles, such as the AR-15; to raise the age limit to purchase a firearm or ammunition to 21; to require a "green light" on a background check, while federal law only requires the absence of a "red light;" to videotape the point of sale for firearms; and to allow only certain trained associates to sell firearms, he said.
Now, Walmart is announcing further steps. Specifically, after selling through its current inventory commitments, Walmart will discontinue sales of short-barrel rifle ammunition such as the .223 caliber and 5.56 caliber "that, while commonly used in some hunting rifles, can also be used in large capacity clips on military-style weapons," McMillon said. Walmart said it also plans to discontinue sales of handgun ammunition, as well as discontinue handgun sales in Alaska, marking the retailer's "complete exit" from handguns.
McMillon also addressed concerns about "multiple incidents" where individuals "attempting to make a statement and test our response have entered our stores carrying weapons in a way that frightened or concerned our associates and customers. These incidents are concerning, and we would like to avoid them, so we are respectfully requesting that customers no longer openly carry firearms into our stores or Sam's Clubs in states where 'open carry' is permitted, unless they are authorized law enforcement officers."
To implement the new policy in practice, McMillon said the company's leadership team has been briefed on how to communicate this change in policy to customers when needed. "We will treat law-abiding customers with respect, and we will have a very non-confrontational approach," he told employees. "We will be providing new signage to help communicate this policy in the coming weeks."
A call to action
McMillon said he will be sending letters to the White House and Congressional leadership that call for action on common-sense gun control measures. "As we've seen before, these horrific events occur and then the spotlight fades. We should not allow that to happen," he said. "Congress and the administration should act. Given our decades of experience selling firearms, we are also offering to serve as a resource in the national debate on responsible gun sales."
Kroger took a similar stance in its announcement, with Jessica Adelman, group vice president of corporate affairs, saying in a statement the retailer is "joining those encouraging our elected leaders to pass laws that will strengthen background checks and remove weapons from those who have been found to pose a risk for violence."
Other retailers have also revised their firearms policies. Dick's Sporting Goods in February 2018 implemented similar age restrictions as Walmart on gun purchases. Several other companies—like Starbucks, Target, and Wendy's—have also asked customers not to openly carry firearms into their stores.
And, last year, numerous companies implemented gun control measures to, essentially, boycott the National Rifle Association. Those companies include Hertz; Enterprise; National, Avis; Alamo; Symantec; Chubb; MetLife; Wyndham Hotels; Allied Van Lines and North American Van Lines; Delta Air Lines; and United Airlines.

Jaclyn Jaeger is a freelance contributor to Compliance Week after working for the company for 15 years. She writes on a wide variety of topics, including ethics and compliance, risk management, legal, enforcement, technology, and more.