Compliance's evolution over the last 20 years has been far from linear. Programs take different forms for each company, and practitioners often find themselves confronting unique situations based on their business's circumstances and profile.
Consider the following titles for four officials Compliance Week assembled to form a leadership panel at its National Conference in Washington, D.C. as an indication of how varied the role of the compliance officer has become:
Pilar Caballero, chief compliance officer and chief privacy officer at Ryder
Catherine Razzano, head of legal compliance at TikTok
Charles Schwager, chief compliance and ethics officer at Waste Management
Mary Shirley, head of culture of integrity and compliance education at Fresenius Medical Care
"The one size does not fit all is something I don't think is going to change in the future," said Schwager. "Everyone needs to appreciate what their scope of responsibility is and what their mandate is. It all has to be tailored to the business."
Still, there are many shared struggles compliance officers contend with, including maintaining an ethical culture; embracing data analytics; and determining their role in measuring environmental, social, and governance (ESG) metrics. CW's leadership panelists shared their insights on each of these areas and more as part of a wide-ranging discussion at this month's event.
State of compliance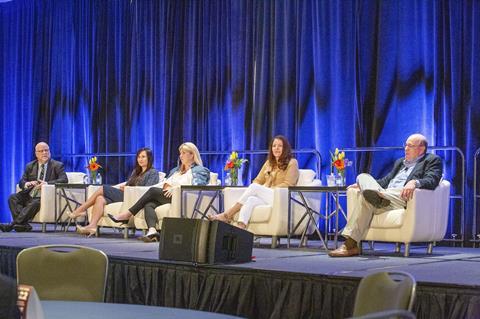 Compliance is still about following the rules, but growing emphasis on values cannot be understated.
"There are the legal provisions, and then there is the 'what should we do?'" said Razzano, noting the current sanctions landscape as an area where sending the right message is being considered with equal importance to meeting the government's requirements. "… The regulatory compliance and the ethics and integrity of what's right are coming together. They have to be served together and not looked at as two separate boxes."
Shirley noted last year's Activision Blizzard scandal as an example of a company's culture receiving heightened scrutiny amid regulatory pressure.
"I think we're going to continue … moving along from rules-based to values-based," she said. "The future is there for us."
Data analysis/reporting
"I went to law school to not do math; I never would have thought how much I am focused on data now," joked Schwager.
Analytics have become a necessary tool for compliance officers in determining potential areas of weakness at their organizations. For Caballero at Ryder, her team has created a platform for data gathering from different sources, including internal audit and workplace safety. Equally important to obtaining the data is masking it to ensure it is protected.
"We're gathering such sensitive information that when you're building this you want to make sure it's secure and that other people in the organization—or bad people outside the organization who want to hack into your systems—don't have access," she said.
Scope of ESG
"I think ESG highlights the importance of compliance, ethics, and integrity, but it's not the sole thing," said Schwager. "If you look at it, it really is this holistic approach companies are taking to be more purpose-driven."
The panelists generally agreed compliance officers should play a key role in determining ESG strategy at their companies, but input from multiple areas of the business is essential to success. Whether the chief compliance officer should be the one tasked with leading initiatives depends on the people around him or her as much as the organization's structure.
"That's the interesting thing about this role—sometimes you do inherit things because you have these skills that maybe someone else doesn't have or maybe nobody wants to do it," said Caballero.
Importantly, Razzano stressed compliance officers should not feel as if they have taken on the role of chief reputation officer at the company.
"That's why we have tone from the top," she said. "Our leaders should be defining what our culture and reputation wants to be."
Ensuring productivity
"How do you get things done?" moderator Steve Naughton asked the panelists.
Razzano stressed relationships: "Whether they know it or not, they need me and I need them," she said. Caballero discussed the importance of understanding your available resources, and Schwager emphasized the need to align compliance with the goals of the business.
For many organizations, compliance might still feel as if it needs to prove its value. Yet, the programs that have carved out the standing necessary to earn a seat at the table must avoid becoming complacent, said Shirley. The years ahead are sure to produce continuing change for the compliance profession, and as much as practitioners must remain nimble, humility is equally crucial.
"We can't fall into the trap of being overly confident that we have made it unless we have the data to prove we have made it that far," Shirley said

Kyle Brasseur is Editor in Chief of Compliance Week. His background includes expertise in user personalization with ESPN.com.
View full Profile