The role has many names—diversity manager, director of diversity, chief diversity officer. Whatever the title, one thing is certain: It is currently one of the hottest positions in the job market today.
According to LinkedIn data, diversity leadership roles experienced "an enormous upward spike" in late May and early June 2020 amid U.S. national protests calling for racial equity and social justice following the deaths of George Floyd, Breonna Taylor, Ahmaud Arbery, and others in the Black community. Since then, diversity, equity, and inclusion (DE&I) programs have reached a heightened level of urgency, with several companies and organizations appointing their first-ever DE&I officer. Others have elevated the role to a global, executive-level position.
"We recognize that the world is changing and that DEI requires a strategic plan and support across the company to truly move the needle," says Anne Buchanan, senior vice president and chief human resources officer of musical instrument retailer Guitar Center. "This was the driving factor in our decision to onboard a head of DEI and build out a function that can focus exclusively on providing tools, education, resources, and programs to drive our diversity initiatives."
DE&I demands everyone putting their guards down, being uncomfortable, being vulnerable, and willing to share emotions in their most raw state—be it sadness, anger, frustration, or fear—because, plain and simple, at its core, real business connections begin and end with genuine human connections.
Paul Gimenez, who was named Guitar Center's director of diversity, inclusion and belonging in February, says his early initiatives "will aim to lay the right foundation, including establishing baseline metrics, defining what success looks like and how progress will be measured, … determining resource demands, and identifying and securing the right partnerships and relationships to bolster efforts."
"This approach requires that we carefully examine recruitment, onboarding, training, performance management, succession planning, and external and internal communications," he says.
Gimenez also succinctly sums up what it means to be a diversity leader today: "We must ensure we move leadership from commitment and support to ownership and action—and, importantly, we must create opportunities for conversations that speak to deeper aspects of human nature than traditional business requires. Fundamentally, diversity, inclusion, and belonging are inextricably linked to our core beliefs, thoughts, values, and experiences. High-quality interactions and conversations, more than anything else, open people's minds to the cultures, perspectives, and experiences that fall outside their own."
Several other companies with newly appointed chief diversity officers announced similar initiatives with similar goals. These companies include Wendy's, Visa, Unisys, GBH, AARP, Rockwell Automation, Stanley Black & Decker, Starbucks, and Pizza Hut, to name a few.
"We're listening to diverse voices, providing training to promote equity throughout all levels of our organization, and partnering with external groups and communities that are doing incredible work in this space to help maximize the impact of our efforts," says Chequan Lewis, who was appointed chief equity officer at Pizza Hut in August 2020.
'Cultural evolution'
While recent events have catapulted chief diversity officers (CDOs) into the spotlight and escalated the importance of having one, many CDOs tell Compliance Week their organization's DE&I journeys began years ago. They further describe those DE&I efforts not as reactionary to recent events but rather quite intentional and thought-out, having continuously evolved and improved over time.
The data backs this up. According to LinkedIn, the number of people with "head of diversity" in their title spiked 107 percent over the last five years. Those with "director of diversity" in their title increased 75 percent, and chief diversity officers increased 68 percent. That same analysis further showed a 71 percent increase worldwide in all D&I roles over the last five years.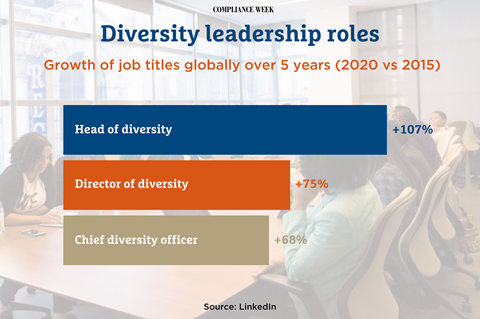 "At its core, diversity, equity, and inclusion is about cultural evolution," says Marvin Mendoza, who was appointed global head of DE&I at PPG in November 2020. The rising number of hate crimes, including the mass shootings that took place in Atlanta in March targeting Asian Americans, is "another reminder that organizations need to focus on diversity, equity, and inclusion in a way that supports their employees and shows their customers and the communities that they operate in that they're committed to this," he says.
Mendoza's appointment signals the latest phase in the paint company's DE&I journey. In this newly created role, Mendoza is tasked with putting together PPG's global DE&I vision and strategy. Reporting to Chief Human Resources Officer Kevin Walling, Mendoza says he will partner with all the busines units, including the compliance function, to execute the strategy.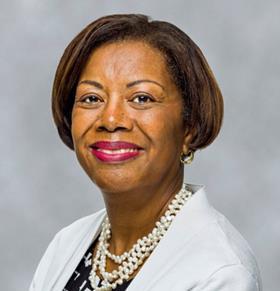 That said, if DE&I is not driven and supported by the CEO, "it's seen as just another HR initiative," Mendoza says. Signaling his personal commitment to these efforts, PPG CEO Michael McGarry in 2017 signed the "CEO Action for Diversity & Inclusion" pledge, joining a coalition of nearly 2,000 other CEOs to date who have committed to advance DE&I in the workplace.
PPG Chief Compliance Officer Joel Dennison adds that DE&I cannot end with the CEO, however. "It has to trickle down to all levels of management that people take this issue seriously and that they're engaged in the effort. If people see that it is important to their managers, it will be important to them."
PPG achieves this, in part, through its Diversity & Inclusion Leadership Council. Consisting of senior leaders within the company, the council champions, directs, and facilitates initiatives that embed DE&I into the company's global culture. Additionally, business unit leaders set diversity goals and regularly monitor progress.
Other CDOs say they are achieving these goals by leveraging what are commonly called "Employee Resource Groups" (ERGs) and "listening sessions," both of which serve as voluntary, employee-led platforms where workers can come together to talk candidly and unapologetically about difficult and personal topics, like racial, ethnic, and gender biases, as well as matters of social injustice.
"Having those conversations where there is an executive sponsor that supports the dialogue, where there is some storytelling, where you encourage others to share their stories and experiences—to me, that is a critical part of that cultural evolution journey," Mendoza says.
At Elevate Credit, a provider of online credit solutions, the ERG gives employees the opportunity to engage in the DE&I process, to help guide the company's policies and procedures, and to challenge products and services currently in place that may unwittingly be disadvantageous to certain groups. "It's about developing ambassadors of DE&I," says Dion Harrison, who was appointed Elevate Credit's CDO in April 2020.
"You have to be comfortable with being uncomfortable."

Dion Harrison, Chief Diversity Officer, Elevate Credit
Do not use the pandemic as an excuse to not have hard-hitting conversations. The same effort we have all put forth to stay in touch with our families should be put forth with employees as well, Harrison says. "If they're important to you, and you know you need to be having these conversations … make the effort to reach out in an intentional way," he says.
Whether five people or 500 people show up matters not, "but it does matter that you show up as the chief diversity officer," Harrison says. Above all else, be willing to listen. "You have to be comfortable with being uncomfortable," he says.
"You can't do this work successfully if you're afraid of having hard conversations," says Edna Kane-Williams, who was promoted to CDO at nonprofit group AARP in March. AARP is another organization that began its DE&I journey decades ago. Kane-Williams, who joined AARP in 2006, most recently served as senior vice president of multicultural leadership, which was renamed Diversity, Equity & Inclusion alongside her promotion. For its part, AARP soon will be launching training sessions called "courageous conversations and how to have them," she says.
DE&I should not just be about acknowledging people's differences and life experiences but also celebrating them. Elevate Credit hosts virtual sessions celebrating various forms of cultural heritage, for example. "Our employees have created a lot of our programs," Harrison says. "We're constantly adding new cultural events to our programming."
DE&I and compliance
The critical role chief ethics and compliance officers play alongside CDOs, and the intersection between the two, cannot be overstated. A DE&I program should be shaped around the core values of the company and help to "reimagine, reshape, and rethink the policies and procedures that are put in place," Harrison says.
Several chief ethics and compliance officers who spoke with Compliance Week agree. "I believe diversity and compliance functions go hand-in-hand," says Rockwell Automation Chief Ethics and Compliance Officer Gary Ballesteros. "They are both critical components in our company's culture."
At Xerox, for example, "the D&I role and ethics and compliance functions mutually support each other by collaborating to understand best practices related to policies, procedures, and processes related to diversity, inclusion, and belonging," says Yetta Toliver, the company's global head of diversity, inclusion and belonging.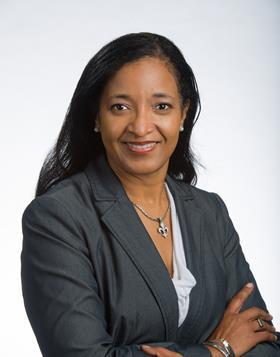 At Stanley Black & Decker, "our CDO and ethics and compliance team work together to foster a culture in which employees bring their whole selves to work and feel safe, respected, and included," says General Counsel Janet Link. Both functions broadly look at situations where employees have raised concerns about discrimination and look for signs of unconscious bias or the need for training and education, she says.
One place where many companies look for weaknesses in the diversity and inclusion program is through the ethics hotline. At Xerox, for example, "the business ethics office manages the Xerox ethics helpline, which allows employees to report ethics and compliance concerns, including allegations related to diversity and inclusion," Toliver says.
Using data, including ethics hotline data, to guide DE&I strategy helps both functions. A truly diverse workforce represents various dimensions of diversity—race, ethnicity, gender, sexual orientation, religious affiliation, and so on. "Without taking a data-driven approach, companies sometimes try to boil the ocean and try to do a little of everything for every demographic," Mendoza says. "What ends up happening is they end up not knowing what they are aiming for and not actually achieving any progress."
A data-driven approach in the DE&I context means looking at things like headcount data, promotion data, performance management data, and looking for inequities. Use hard data in combination with soft data, like employee interviews, focus groups, and surveys to understand employee experiences, "to determine what the vision should be, what the goal should be, and what the strategy should be," Mendoza says.
All told, CDOs today have their work cut out for them. If their emotions collectively could be summed up, it might sound something like this: Lose the script. DE&I is not an issue that can be addressed by issuing some boilerplate statement and speaking strictly in legal and compliance terms. It demands being authentic and transparent. It demands everyone putting their guards down, being uncomfortable, being vulnerable, and willing to share emotions in their most raw state—be it sadness, anger, frustration, or fear—because, plain and simple, at its core, real business connections begin and end with genuine human connections.

Jaclyn Jaeger is a freelance contributor to Compliance Week after working for the company for 15 years. She writes on a wide variety of topics, including ethics and compliance, risk management, legal, enforcement, technology, and more.