"Think globally, act regionally."
Those were words of advice from my former supervisor when I started working internationally in 1997. And that's essentially the proposition in a wonderful book by Erin Meyer, The Culture Map: Breaking Through the Invisible Boundaries of Global Business, where she shares a "step-by-step approach to understanding the most common business communication challenges that arise from cultural differences." I consider her book another foundational work in our compliance world, where global compliance messages and programs need to be developed, implemented, and understood on a country-by-country basis, which means appreciating the subtle and not-so-subtle ways that our words and behaviors impact how our communications are received. In other words, as compliance leaders, if we want to help influence the behavior of others, as Meyer states, we need to appreciate that "the art of persuasion is one that is profoundly culture-based."
And pivoting on that perspective, Cédric Dubar, chief compliance and ethics officer of Volvo Car Group, says, "We all see, interpret and evaluate things differently, and we all have different ways of approaching human interactions and tasks. These differences can be even more acute when you deal with people from different cultures: In this context, communication can be challenging, as it is easy to misinterpret meanings and intentions." So, given our globally disbursed compliance and commercial teams, how can an organization decode other cultures and "avoid easy-to-fall-into cultural traps," where, as Meyer points out, we can be "easy prey to misunderstanding, needless conflict, and ultimate failure."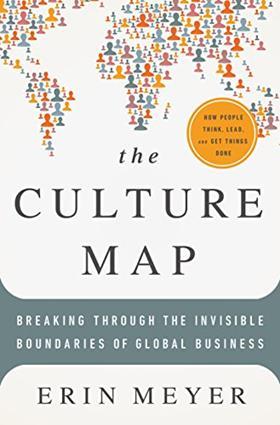 The Culture Map provides us with "eight scales that map the world's cultures." To help us avoid such traps, the author categorizes each scale on a continuum, based on: communicating, evaluating, persuading, leading, deciding, trusting, disagreeing, and scheduling. The bulk of her book addresses each of these issues on the culture map, focusing on the "cultural relativity" of how each variable can impact perceptions, cooperation, and communications, particularly with respect to how "international cultures perceive one another." As Sobia Akram, corporate VP in the global business ethics compliance office at Novo Nordisk (Novo Nordisk is specifically mentioned in The Culture Map, as to how they adeptly handled communications in their purchase of a company based out of Tokyo), says, "When it comes to communication—be it universally understood core values or even specific messages, e.g. pertaining to compliance—we need to reach people where they are in the context of their world, their language, and their efforts and aspirations. That's why you really have to be on the level—eye-to-eye—with people and listen; understand where they are; and only then tailor your communication accordingly."
Additionally, Meyer recognizes that when we are addressing culture we are "walking a minefield." She explains how " most of us have a deep sense of protective instinct for the culture we consider our own and, though we may criticize it bitterly ourselves, we may become easily incensed if someone from outside the culture dares to do so." So, we all need be somewhat introspective if we are to be able to understand how we might be perceived by others.
Angélique Parisot-Potter, group senior vice president at Massy Group of Companies, says: "My multicultural and transdisciplinary experiences in regions high up on Transparency International's Corruption Perception Index have taught me that if you want to understand and help address ethical challenges, the way not to do it is to expect those living and working outside the systems to which we've become accustomed, to adopt without question or even buy-in because we say so or because we do so in our environments." That's a point well taken and a major theme of The Culture Map—we need to be vigilant about what might seem intuitive in our "home territory" and therefore not think that it will be similarly understood and embraced in other regions and cultures.
Meyer encourages us to think about, how "when interacting with someone from another culture, try to watch more, listen more, and speak less. Listen before you speak and learn before you act." And then, "use all the available resources to understand how the cultural framework you are working with is different from your own—and only then react." As Mary Shirley, senior director, ethics and compliance at Fresenius Medical Care North America, addresses, "It's important to earnestly absorb as much as you can about the business and social context in which you are interacting. Ask questions, read up, and actively take part where you can. I consider myself richer as a person for the various customs I have learned via invitations to events by both colleagues and friends from different backgrounds. As a compliance officer, I believe I am better positioned to incorporate the business practices and cultural traditions of diverse regions into my compliance training when I throw myself into the society of my colleagues and make efforts to assimilate into their culture." (For more of Mary's perspective, see "Asia Pacific compliance: Five tips for practitioners based outside the region," as published by Compliance Week).
And if it goes wrong or if something is misunderstood, a little humor, especially "self-deprecation allows you to accept the blame for being unable to get the message and then ask for assistance," notes Meyer. One commonality among her roadmap is that all cultures appreciate a simple call for help and guidance when it comes to making an effort to communicate across boundaries. Matt Galvin, global VP of ethics and compliance at AB InBev discussed how his seven years of living in Asia, studying Chinese, and practicing in Hong Kong impacted his approach to communications, investigations, and compliance.
In addition, Galvin said, "There's no way that those experiences hadn't. It had imbued in me an ability to be surprised at any point in a case, a sense of humility, and to ask basic questions to unravel how a system or a custom or process worked in practice, with an appreciation of how language and race and gender can impact an interview or a training room, and a respect for different values of privacy, face, and order." He then added, "I have invested a lot in building online trainings that show and not tell—in no small part because I have found few cultures where brevity in compliance education is not appreciated and a brief tv show is not welcome." This perspective is well-aligned with Meyer who counsels us in how building an "awareness of your team goes a long way to approving collaboration."
Meyer also shares how when certain cultures do not understand one another, "systems collide, misunderstandings, inefficiency, and frustration occur." Dubar can relate. He says: "This is particularly true in the compliance field, as what is considered appropriate behavior for one culture may be inappropriate for another. And more generally, whether you communicate on the company´s values, assess your risks, design your compliance framework, train or investigate, you need to develop cultural skills in order to interact effectively with employees and successfully manage intercultural situations." And that nuanced understanding not only applies on a cultural basis, but it also applies to functions as well, where we now have a matrix of communicating not only with our compliance peers but to our commercial teams as well. Akram agrees with that statement. "If you are interacting, for instance, with colleagues from the commercial side of the business, you need to show you understand the business—and in part use their terminology when inserting your key messages into their context," he says.
But do not get too discouraged., as this is not an unsolvable problem, as The Culture Map provides us chapter by chapter with very detailed information across the map's variables and cultures. For example, if working with a team that comes from both a consensus and top-down culture, simply "discussing and agreeing upon a decision-making method during the early stages of your collaboration" can help you avoid the inevitable hazards ahead with such a mix. And the book is replete with such examples. Meyer states, "Awareness and open communication go a long way toward defusing conflict."
Risk you don't know
Shirley of Fresenius says: "I think one of the key risks when working in areas with different customs and practices than your own is that when you don't know what you don't know, you're not in a position to understand how to look for and deal with transactions and conduct that may expose your organization to compliance risks. That gets us back to the need to ask questions to learn about people, traditions, and processes that they hold dear, so you know those risks and can address them."
That is most certainly correct: We can't address risk that we don't know—and, as Dubar adds: "working in a multicultural environment requires first and foremost openness and curiosity so as to understand differences in behavior and values (you need to understand why people think, behave, and act the way they do). As a practical example, demonstrating deference and respect in a work relationship is very important in many Asian countries, whereas in South America people are quite informal at work. You also need flexibility and adaptability, as you can´t just make assumptions about individual traits based on where the person comes from; you need to understand individual differences."
Meyer concludes, "as globalization transforms the way we work, we now need the ability to decode cultural differences in order to work effectively with clients, suppliers, and colleagues from around the world." Is that challenging? Absolutely. But as Meyer shares, "it's also fascinating. The range of human cultures can be a source of endless surprise and discovery—a fount of remarkable experiences and continual learning that can never be exhausted." And don't worry—if you stumble along the way "with a little effort and creativity, you can find many ways to encourage and learn from alternative points of view while safeguarding valuable relationships."
The opinions of quoted compliance contributors are their personal viewpoints and perspectives and not on behalf of their company or a company representation.

Richard Bistrong is the CEO of Front-Line Anti-Bribery and a contributing editor of the FCPA Blog. He was a former International Sales VP, FCPA violater, and FBI/U.K. cooperator, having served 14 months in federal prison for violating the FCPA.