Lockdowns. Factory shutdowns. Labor and goods shortages. From Covid-19 to the Suez Canal blockage, the global tumult of the last three years has underscored the criticality of supply chain management for businesses.
Despite the importance of the job, procurement has historically received a lackluster reputation as a backroom function myopically focused on cost-cutting. Boston Consulting Group (BCG) procurement experts Christian Schuh, Wolfgang Schnellbächer, Alenka Triplat, and Daniel Weise beg to differ. Their book, "Profit from the Source: Transforming Your Business by Putting Suppliers at the Core," rethinks the function's reputation.
"In many companies, if not most, procurement is an unglamorous, unloved part of the business," the book states. "… The CPO (chief procurement officer) and the procurement function are marginalized because procurement is a deeply misunderstood corporate capability."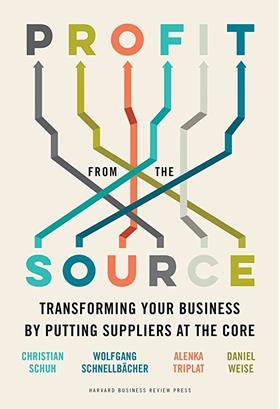 Procurement is the key to gaining a competitive edge in a post-pandemic world, the book's thesis outlines, along with positing the CPO should be given a new mandate and seat at the table beside the chief executive officer.
"In the last 70 years, [procurement] has been put down in a political sense," Weise told Compliance Week in a video interview. "Times have changed. There is scarcity. There is a war in Europe. There is, for good reasons, sustainability as a rising topic and many other things. In order to be able to cope with this, procurement needs to be reinvented."
"Profit from the Source" presents real-world examples, constituted by the authors' experiences as BCG consultants, of companies that have empowered procurement to drive profitable growth through the supply chain. One fun fact: Apple, whose CEO Tim Cook is the technology giant's former CPO, doesn't actually make anything itself. Its world-renowned products are the aggregate of its suppliers.
Though compliance is not an explicit focus of the book, its applicability emerges in ancillary ways. For starters, being shoehorned into a bad rap or relegated to supporting rather than shaping corporate strategy is perhaps something relatable for compliance officers. Secondly, the authors say procurement is the key to competitive advantage. Compliance might just be the wrist that turns that key.
Weise believes the compliance function goes "hand in hand" with procurement. By combining forces, procurement and compliance can optimize supply chain management.
"There needs to be a very intensive dialogue between the compliance team and the procurement and supply chain response to make sure [procurement] does whatever is best in the interest of the company and, of course, in the interest of society," Weise said.
Shaking down suppliers for savings is an insufficient remit for procurement professionals today, the book contends. Cost reduction remains and should be an important objective but not the only one.
The book identifies five other mission-critical sources of competitive advantage that stem from putting suppliers at the core of the business: innovation, quality, sustainability, speed, and risk reduction. That last area falls into compliance's wheelhouse.
"The compliance team can give [procurement] a lot of guidance in going over the supply chain to determine what needs to be fulfilled … helping us in procurement to understand some of the requirements, which potentially we are sometimes not aware of because we want to make things easy. We want to provide a positive business case. We need to be reminded of how it is best to work to be fully aligned to all the things we are obliged to," Weise said.
The authors argue procurement should be involved in a company's product development from ideation to postproduction—not only to maximize vigilance over costs, which tend to creep up after a supplier contract has been signed, but also to give procurement continual access to innovations, which happen at supplier sites.
"A procurement professional wants to influence the product from when it originates. … They want to be able to have, as long as possible, access to most of what is a competitive force in the supply chain," Weise explained.
When should compliance come into the product life cycle? The earlier, the better, Weise said.
"The compliance team needs to, early on, support this because we (procurement) have to have a view on where suppliers are sitting, how they're operating, and anything else we need to take in our view when assessing them," he said.
"There needs to be a very intensive dialogue between the compliance team and the procurement and supply chain response to make sure [procurement] does whatever is best in the interest of the company and, of course, in the interest of society."

Daniel Weise, co-author of "Profit from the Source"
As a component of proactively spotting risk, compliance is well versed in the company's obligations relating to international data privacy laws; environmental, social, and governance (ESG) initiatives; and other third-party risk concerns. This deep knowledge unlocks added value for procurement.
The book identifies four multipurpose technologies CEOs should adopt to revamp the procurement function: robotic process automation, big data and advanced analytics, artificial intelligence and machine learning, and blockchain technology.
Compliance can aid procurement in vetting these technologies.
"How do we work with data? How do we make sure we can check if the software is doing what we want the software to be doing? … In procurement, we are thinking of who and how we can make the process easier, more efficient. But we need to be reminded of what is possible in the sense of what we are allowed to do or not," Weise said.
A major selling point of the book is companies can leverage procurement to meet ESG obligations by requiring the CPO to work with suppliers to deliver ESG standards. A proactive approach to ESG will widen a company's competitive moat over other industry players, the book points out.
"We can, of course, be compliant, but there are companies that are competing and wanting to be leading in ESG, and I think that is something to differentiate," said Weise. "That is something extra."
This is an area where the compliance team can help procurement a lot, Weise said.
"We need to agree on how we actually establish transparency on the carbon footprint in Scope 1, Scope 2, and Scope 3 upstreams and downstreams. The compliance team is needed to help us remind ourselves, 'What is the definition of our carbon footprint?'" Weise said.
The crux of value in reading "Profit from the Source" for compliance professionals might lie in the argument empowering procurement to help shape corporate strategy also puts compliance in a favorable light. If the procurement function's new mandate involves maximizing potential value from relationships with the company's suppliers, then the guidance of the compliance function is required to safeguard the business while making that happen.
"The compliance team can really help us to keep ourselves honest," Weise said.

Aly McDevitt is Data & Research Journalist at Compliance Week. She has a background in education and college consulting. Prior to teaching, she was an editor/author at Thomson Reuters.
View full Profile