Former FBI Director and bestselling author James Comey will be the headline speaker at Compliance Week's upcoming financial crimes event and also its National Conference in May, both of which will be held virtually.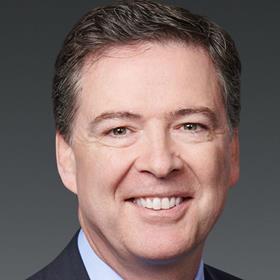 Comey served as FBI Director from 2013-2017, a tenure that included overseeing the Bureau's high-profile investigation of Hillary Clinton's private e-mail server. Prior to leading the FBI, Comey served as U.S. deputy attorney general from 2003-2005 and was the U.S. attorney for the Southern District of New York from 2002-2003.
His experience as a leader during turbulent times and his strong belief in the rule of law make him uniquely qualified to speak to compliance practitioners dealing with the heightened financial crime risks the COVID-19 pandemic has wrought.
In his bestselling book, "A Higher Loyalty: Truth, Lies, and Leadership," published in 2018, Comey traced his path to government service and shared lessons learned along the way—with a particular focus on the role of ethics in decision making. He also described working for President Donald Trump, who soon after taking office fired him in the wake of the Clinton e-mail scandal.
His recently published follow-up to that book, "Saving Justice: Truth, Transparency, and Trust," is an exploration of justice and fairness seen through the lens of his experiences working within the U.S. justice system.
For Compliance Week's "Financial Crimes: Risks, Trends, and Proven Practices" virtual event from March 30-31, Comey will deliver a 15-minute keynote address to kick off the conference. He'll be giving a longer speech at Compliance Week's 16th annual National Conference (May 11-13), traditionally held in Washington, D.C., but going virtual for the second straight year due to the pandemic.
These appearances will not be Comey's first for Compliance Week. He also delivered a brief message at the 2020 CW National Conference.
"Leaders understand that if they're going to lead effectively through a crisis, they have to be strong but be honest," he said. "[Leaders] have to relentlessly and constantly tell their people the truth. And when they make a mistake, correct it. Have their people know they can count on that leader to always give them the straight story. But they should be relentless and honest in another way, and that is, [to tell them] 'We're going to be OK in the long run. That I, as your leader, have a vision and a plan, and we're going to execute on it.'"
The Compliance Week National Conference is the premier peer-to-peer event that spotlights corporate compliance, ethics, legal, and audit leaders and their programs. Past keynote speakers have included former U.S. Attorney for the Southern District of New York Preet Bharara and former Pulitzer Prize-winning author and U.S. Ambassador to the United Nations Samantha Power, now the nominee to run the United States Agency for International Development under the Biden administration. Former keynotes also included representatives from the Securities and Exchange Commission, the Department of Justice, Fortune 500 CEOs, academics, and compliance thought leaders.

Dave Lefort was Managing Director of Compliance Week. Before joining CW, he spent nearly two decades in digital leadership roles with ESPN and The Boston Globe.
View full Profile