Be kind. It's a simple premise—one taught to many of us on schoolyards at a young age—and yet we might still need the occasional reminder in our professional lives.
For Snap, the company behind popular social media app Snapchat, kindness has long been a core value, but only recently was it thrust to the forefront of its internal communications. A project by the compliance team to overhaul the company's code of conduct as a "guide to kind business" paid off with its publishing in May 2021, but the code is just a piece of an overall initiative to instill trust in the brand and emphasize culture.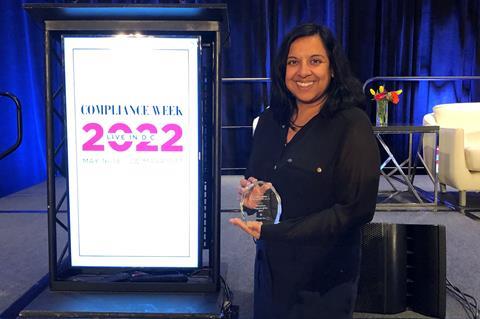 For these efforts, Snap was recognized as Compliance Program of the Year at the 2022 Excellence in Compliance Awards.
Snapchat had been around for five years before the company rebranded as Snap in 2016 and subsequently went public in the spring of 2017. Until last year, the company's code of conduct was a "straight-text word document" of legalese, said Nicole Diaz, global head of integrity and compliance legal at Snap. Diaz oversaw the project to overhaul the code.
"We knew we wanted to update it to reflect what I think is our biggest asset, which is the culture of the company," she said.
The process took Diaz and her colleagues nearly a year between research, writing, internal review, and graphic design. Diaz said she read studies on business ethics during that time, drawing from her research that conduct is "driven much more by inspiration and identity than it is by command-and-control rules" and is most sustainable "when a company is oriented toward the long-term health of its stakeholders and views ethical conduct as an investment in its ecosystem," she said.
Diaz paired those findings with knowledge from Snap leaders.
"It's great to be able to take those learnings and then translate them into the language and feel of Snap," she said. "The ways I did that was both by having it anchored by a core value of being kind and this idea that being kind is not just an interpersonal value—it's a strategic business decision to invest in the people that you do business with."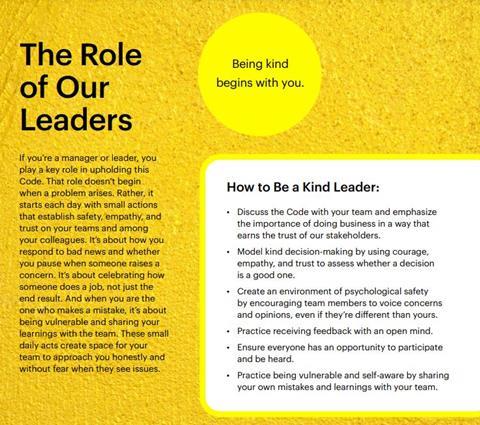 The emphasis on kindness is driven home throughout the new code. It is broken up into five sections—Be Kind to Each Other, Be Kind to Our Community, Be Kind to Our Partners, Be Kind to Investors, and Be Kind to Our World—and each page includes callout boxes with actionable tips labeled "How We Are Kind."
"I'm glad that we ultimately decided to leverage the value of being kind because it's so organic to our company. People are already thinking in those terms," Diaz said. "We just took that extra step of really getting people to understand it is a driver of decisions.
"We're still in the process of getting that point home—of putting the words kind and business together—so we can champion the idea that being kind is so much a part of who we are, and it really is going to inform our long-term strategy."
Compliance at Snap: Promoting accessibility
The compliance team at Snap is no more than 10 employees. Diaz oversees legal, Vanessa Mártires leads operations, and Emily Barton serves as head of sustainability. They each report to the chief compliance officer, a position that is currently vacant after Dominic Perella announced he would be stepping down for sabbatical in the spring.
More Excellence in Compliance Awards
Diaz described the company as "flat," in that "everyone feels very accessible."
"I think that feeds into our approach to compliance as well," said Diaz. "We're hopefully not an anonymous bureaucracy or a function that no one knows. We try to be very accessible. We take a collaborative approach to mitigating risk with the business, rather than a strict, black-and-white approach."
All in on ESG
Barton was hired at Snap in December 2016, her sustainability role being a new position. "At the time ESG (environmental, social, and governance) wasn't a term being used very widely to describe this work, but that was the idea—that we needed somebody to come in and both share the story of what we were all doing but also align our efforts," she said.
To get the message of the importance of ESG across, the company composed an internal report in 2019 that was reflective of its 2018 efforts. "Once everybody saw it come together in one place, they realized how it made a lot of sense and that reporting on our ESG efforts would help us to hold ourselves accountable to our stakeholders," said Barton. In 2020, the report was published externally for the first time and recounted Snap's ESG efforts during 2019.
Snap's 2021 CitizenSnap Report was nearly twice the length of the prior version and reestablished the company's four ESG pillars of society, planet, people, and governance. The report, like the company's new code of conduct, is loaded with visuals, including pull quotes from employees across the business each speaking to their area of expertise.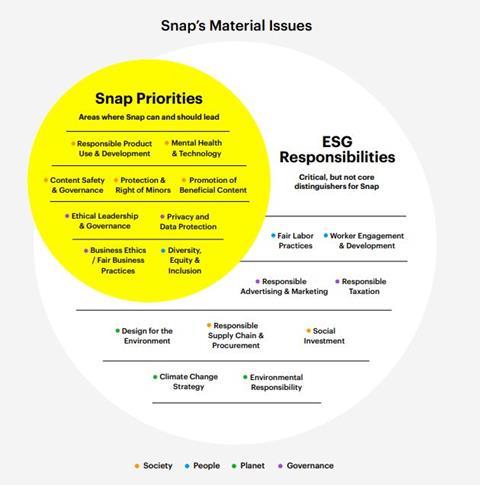 There's also data, most notably the results of Snap's first materiality assessment conducted in 2020.
"The materiality assessment helped us to define what are the highest priority topics, where we should focus more attention in our efforts within the company, and where we should focus the most attention on the reporting," Barton said. "As an example, a substantial amount of the report is devoted to initiatives around ensuring the responsible use of our product."
Left out among the company's highest priorities was climate change, a result of the nature of the business. Yet, Snap still included its Scope 1 (direct), Scope 2 (indirect produced by purchased energy), and Scope 3 (supply chain/vendors) greenhouse gas emissions in the report and its commitments to reduce absolute Scopes 1 and 2 emissions by 25 percent and Scope 3 emissions by 35 percent per unit of value added by 2025.
"The reason why transparency is so important is that if you don't talk about it externally, it's hard to make the case that you're really doing it. Stakeholders want to know what we're doing," Barton said.
Snap is already historically carbon neutral. In October 2021, it committed to becoming net negative —removing more carbon than it is emitting—by 2030.
DEI as a difference-maker
While climate change was not identified as a top priority in Snap's materiality assessment, diversity, equity, and inclusion (DEI) was. The company hired Oona King as its vice president of DEI in May 2019.
"The reason why transparency is so important is that if you don't talk about it externally, it's hard to make the case that you're really doing it. Stakeholders want to know what we're doing."

Emily Barton, Head of Sustainability, Snap
Snap began publishing an annual diversity report separate from its CitizenSnap Report in 2020.
"It's a high priority issue, so we wanted to make sure it stood out on its own and had its own presence," said Barton.
The 2021 diversity report is similarly defined by transparency, acknowledging significant gains in the percentage of women hired in tech leadership roles (from 6.7 percent to 13.7 percent) and the hiring of Black women (2 percent to 5.1 percent) before owning up to lower-than-targeted representation of Hispanic/Latinx team members (6.8 percent) and Asians in leadership (14.3 percent) a page later.
"Moving forward, we will set representation goals that better index for our future growth and recognize the importance of increasing diversity at all career stages, including leadership, midcareer, and entry levels," the report stated. New benchmarks set to reach by the end of 2025 included:
Increase underrepresented U.S. racial and ethnic groups to 20 percent;
Increase women in tech roles to 25 percent; and
Increase women and U.S. racial and ethnic groups in leadership by 30 percent.
"Homogeneous culture is a blind culture," said Diaz. "If you have everyone who thinks the same way, you are not going to be spotting risk effectively. You need a culture of people with very different backgrounds and life experiences who not only are all in the room but who feel safe to share their experiences.
"It's not about reaching our quotas and then it's done, problem solved—it's about these are capacities and skills that make organizations better and that we're going to continue to learn from and apply across the board."
Intentional integrity
Though its social media app is accessed by hundreds of millions of users worldwide, Snap has done a notable job staying out of regulators' crosshairs like some of its peers. The company lists privacy and data protection among its highest material priorities—a mindset that has helped it avoid running afoul of laws like the European Union's General Data Protection Regulation, for example.
"Generally wanting to construct something that improves people's lives from Day 1 has involved a commitment to data privacy," said Diaz. "It has made users feel more comfortable trusting us as a company."
That trust is the not-so-secret key to Snap's compliance approach. In a world increasingly relying on technology and social media platforms, the company has made it a point to ensure the importance of its culture is scaled to meet its growth.
"To run a kind business, we need to start with ourselves," Snap's Chief Executive Evan Spiegel wrote in the new code of conduct. "… When we respect and value everyone's humanity, we can work more effectively, innovate faster, and make better decisions together."

Kyle Brasseur is Editor in Chief of Compliance Week. His background includes expertise in user personalization with ESPN.com.