Kelly Maxwell, chief compliance officer for the Dana-Farber Cancer Institute in Boston, knows her strengths.
She's a lawyer and compliance professional. She spent the past nine years building a compliance department at Dana-Farber from the ground up, from a team of one (herself) to a group of six dedicated individuals handling a myriad of issues in billing, pharmacy, information security, privacy, and research.
Her goal, and her compliance team's goal, is to be the partner that helps Dana-Farber succeed, she said. She and her team are like "your friendly neighborhood crossing guard," she said, a nod to comic book legend Stan Lee and his superhero Spider-Man.
"I am not a clinician or a researcher," Maxwell said with a laugh. "But I really do feel that we do our part to help the rest of the institute to achieve that mission: to win the war on cancer.
"I hope my other compliance brethren feel that, too, they're really important to the mission, even if we can't do those things."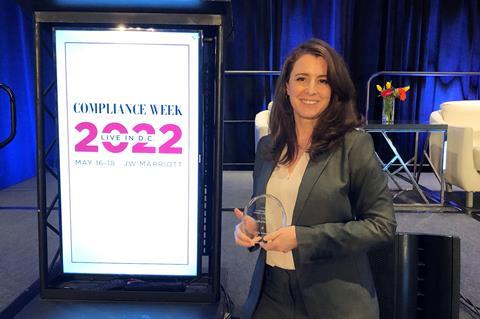 Maxwell, who has led Dana-Farber's compliance team since 2013, was named Chief Compliance Officer of Year at the 2022 Excellence in Compliance Awards.
Kara DelTufo, Dana-Farber's former associate general counsel who worked with Maxwell from 2013-21, recommended Maxwell for the award. She wrote in her nomination, "From the moment Kelly began working at Dana-Farber, compliance became a trusted partner and creative collaborator for the institute. … [Dana Farber's] compliance program is a leader within both the institute and the national cancer hospital community for its programs and efforts; promotion and adherence to ethical behavior; and compliance with all applicable laws, rules, and guidelines."
In 2021, Dana-Farber announced an institute-record $2 billion fundraising effort that is among the largest ever in the United States focused solely on fighting cancer, according to the organization's milestones report. Clinical trials led by Dana-Farber led to Food and Drug Administration approval of the first CAR T-cell therapies for two types of cancer. The immune response in melanoma patients to a personalized vaccine developed at Dana-Farber continued to be robust and effective, four years into the research. And a promising new drug for fighting uterine cancer showed promising results in its initial clinical trial.
Behind the scenes, Dana-Farber, like many organizations, was grappling with the real-world effects of a global pandemic on its operations. How would the institute keep patients and staff safe while also pushing forward on the individual patient care and groundbreaking research that make Dana-Farber what it is? Most medical staff and researchers, of course, could not do their jobs remotely. But could other staff work from home? Where was the right balance between remote and in-person work?
"We've had to rethink everything that we've done or (that) we do to try to meet the demands of the organization and the challenges that keep getting thrown our way," Maxwell said.
Another complicating factor was mandatory vaccinations. As a cancer hospital with an incredibly vulnerable patient population, Dana-Farber made the decision early in the pandemic to require Covid-19 vaccinations for all staff. Along the way, there were numerous thorny issues to be addressed.
More Excellence in Compliance Awards
The main task for Dana-Farber's compliance department was to provide guidance that balanced "the interests of keeping our workforce members and our patients safe but still also protected the privacy of our employees," Maxwell said. "Where is that reasonable expectation of privacy? How can we understand if our employees are getting tested, what their status is, but still not cross any line into their personal medical information?"
During the pandemic, DelTufo said Maxwell "played a key role, working collaboratively with leaders and peer departments to guide Dana-Farber's steps … from an ethical, compliance, and sound business decision-making perspective." Another issue the compliance team addressed was how to comply with state and federal telehealth laws, DelTufo said.
The 'government whisperer'
In 2016, Maxwell helped lead Dana-Farber's response to a 10-month audit conducted by the Centers for Medicare and Medicaid Services. Dana-Farber houses a 30-bed inpatient hospital inside another Boston hospital, Brigham & Women's.
The audit found Dana-Farber had violated Medicare rules by relying on Brigham and Women's to handle a number of processes, including verifying staff credentials and managing patient complaints, according to a 2017 report from Becker's Hospital Review. Although the audit was not critical of the medical care provided by Dana-Farber, Maxwell said she remembers it consuming much of her time during that period.
The audit "really caught my leaders, who were focused on patient care, off guard. We needed to understand the government perspective," Maxwell said. "I've always felt my career has turned into … helping the businesses that I work with understand the government perspective and vice versa." She described herself as a "government whisperer" and would explain to clinical staff what the government was driving at with the audit.
"They're saying we need to do this differently. We need to do that differently," she said.
Creating the team
When Maxwell started at Dana-Farber in 2013, there was no one else dedicated to compliance. The general counsel was responsible for compliance, she said, and many other positions had dual roles.
"I really do feel that we (compliance) do our part to help the rest of the institute to achieve that mission: to win the war on cancer. I hope my other compliance brethren feel that, too, they're really important to the mission."

Kelly Maxwell, Chief Compliance Officer, Dana-Farber Cancer Institute
The health information management director was also the privacy officer. The information security officer was also head of network services.
"I said, 'We need dedicated professional compliance staff. There's no infrastructure. We need to be reporting to oversight committees on a routine basis. We need to be reporting on metrics. We need data, we need a dashboard, we need policies,'" she said. "Over the years, I've created the team and the department and the infrastructure, but I started out with not much in place and building from there, which has really been fun. Challenging, but fun."
DelTufo, who now works as associate general counsel for Foundation Medicine in Cambridge, Mass., said in her nomination, "Above all else, Kelly leads by example, exemplifying the compliance team's principal value—do the right thing—in every aspect of her work. Colleagues know that Kelly will always spot any questionable practice or ethical trap in every project she works on. Importantly, she approaches her role with the utmost respect and compassion for those she is working with. She is dedicated to making sure she understands an issue fully and constantly works to build bridges—even when there are none or they have been damaged."

Aaron Nicodemus covers regulatory policy and compliance trends for Compliance Week. He previously worked as a reporter for Bloomberg Law and as business editor at the Telegram & Gazette in Worcester, Mass.
View full Profile