Mary Shirley, head of culture of integrity and compliance education at Fresenius Medical Care, was named Compliance Mentor of the Year at the 2022 Excellence in Compliance Awards. The author, podcaster, and compliance thought leader caught up with Compliance Week to talk about what mentorship means to her and who has helped her along the way.
Q. What suggestions or advice do you give to compliance professionals just starting out in the field?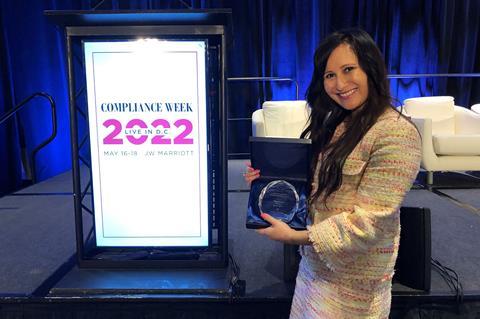 A. Decide that it's important to you to be well versed in issues in ethics and compliance and invest your time in the resources available to you. Many are freely available; some come at a cost.
We tend to call learning about our craft and associated professional skills 'professional development,' but I would argue it's really personal development —you take away the skills you learn with you to the next role or use them to sell yourself to another organization. For that reason, take responsibility for your own advancement and consider paying for some resources or conferences you really want to take advantage of, even if you don't have an employer willing to do so. It's great if you have an employer that is in position to and willing to sponsor your growth; if not, don't let that be a reason to miss out on value-add chances to better yourself.
Also, reach out to thought leaders you have learned from and let them know the impact they have had on you. Sending the elevator back down to someone influential in the field is a great way to open the door to a relationship with that individual. You never know who might materialize into being a mentor or sponsor for you in the future.
Q. As co-host of the 'Great Women in Compliance' podcast, how has that forum given you an outlet to reach women compliance professionals around the world?
A. The podcast is a scalable knowledge sharing opportunity in that it's easy to access, doesn't come at a cost, and listeners can tune in at their convenience. That accessibility has really helped us to become well-known across the world. I was thrilled to receive outreach from someone in compliance in my home country of New Zealand recently—there aren't a lot of compliance roles there, so to have reached an audience there that isn't my own family is very cool.
More Excellence in Compliance Awards
We try very hard to be inclusive, foster widespread representation, and to keep the quality of the content high, which I think has helped sustain a credible reputation in the field. We've also found the podcast has become synonymous with our personal brands; we are able to reach women in compliance through the podcast but also other channels and platforms. It has been an excellent way to build our own profiles and gain exposure, for which I know my co-host Lisa Fine and I are extremely grateful.
The very cool thing we've found is that we reach all who want to be reached in compliance. When a great gentleman in compliance writes to let us know he is a fan of the show, that makes my day. I've been humbled by chief compliance officers in particular—both men and women who tell us they love the podcast. It reminds me that even at the executive levels, there is still space for learning from others, and I adore that we have listeners who are lifelong learners with open minds.
Q. Mentor is defined as an 'experienced and trusted adviser.' How would you define what a mentor is? Is it just being a 'trusted adviser,' or does it go beyond the dictionary definition?
A. I think the dictionary definition is pretty good. To me, a mentor is someone who provides guidance that can help you with substantive areas of the profession, as well as navigate tricky workplace issues, such as office politics or how to survive a difficult situation (i.e., being bullied). A mentor is someone who is a sanctuary for your mind when you encounter a challenge you cannot figure out yourself. Before even speaking to them, you immediately feel better because you have faith that collaborating with this individual will combat the problem you are facing, and they are in your corner to overcome the obstacle.
Q. Who has mentored you in your career path, and what lessons have you taken from their leadership?
A. While over the years I've had a few leaders who I'm grateful for because they taught me what not to do, here is a summary of what I've learned from many of the best:
Mike Flahive: When you're a manager, don't rewrite anyone's work if it's accurate but not the style in which you would write it yourself. Save amendments to someone else's writing only for when they're really necessary.
Katrine Evans: Being authentic and delightfully human is a wonderful way to establish rapport and challenge the stereotype of stuffy lawyers.
Lisa Estrada: Be transparent about making mistakes. When you're a manager, don't dwell on the mistake—the team member already knows it. Be immediately forgiving and let them know you're right there with them to help get back on track.
Mark Stanley: It is possible to coach team members on areas of opportunity without them even knowing in the moment they're being coached.
And from all of them: Diplomacy and graciousness always. Sometimes easier said than done, but it is the aspiration.
Q. What's the best anecdote from the book you co-authored with Lisa Fine, 'Sending the Elevator Back Down'?
A: I think it's the very title and theme of the book itself. The concept of sending the elevator back down is that once you've reached a certain level of success, don't take the ladder with you. Reach out a hand to someone else.
I have often found the most successful of people, the ones you expect are the busiest, aren't the ones proclaiming to be too busy and important. They are giving back and paying it forward. I like to read the maxim more broadly and consider that you can send the elevator in any direction you choose. You don't have to be ultra experienced and senior to send the elevator back down—you can lift someone up with positive words, just as suggested above. Never underestimate the impact of a kind word.
Q. In your current role as head of culture of integrity and compliance education at Fresenius Medical Care, you're splitting your time between compliance and legal functions. What advice can you give on time management?
A. I'm very deliberate about planning ahead, setting reminders for myself, and scheduling dedicated time for deep work. I also duplicate that scheduling, meaning if I think it will take me three hours to work on a training module, I'll block out nine hours of time across several days in the knowledge that if something needs to supersede that time as a priority, I can still get to it with ease and can release the blocks as necessary.
I believe hustle and grind can be reconciled with self-care and breaks. I'm a proponent of being productive and putting in the hours when working but specifically setting aside time that is for, for want of a better word, luxuriating. I also find that sometimes the busier you are, the more effective and productive you are with your time because it's limited. Sometimes when you have a lot of time, you tend to fritter it away and not make the best use of it because there's no pressure to do so.
So, I'm not afraid of scheduling a lot of work over a short space of time—in fact, when we were drafting 'Sending the Elevator Back Down,' I was working a lot of long hours at work. That made my spare time that much more precious and valuable for making sure I pulled my weight for the contributions to the book.
Q. The compliance space is expanding at a very fast pace. How do you keep up?
A. The most effortless way is by crowdsourcing updates and knowledge. I achieve this by building a large LinkedIn network, which includes following important media outlets like Compliance Week. I can be just casually browsing my newsfeed, and when I see an issue posted, especially if multiple sources are writing about it, I can pay attention and do follow-up research and action tasks in our compliance program if necessary.
I make it a habit to browse LinkedIn during nonwork hours to stay up to date not just substantively but also to make sure I'm supporting my network when there are accomplishments to be celebrated as well.

Jeff Dale is the Digital Editor of Compliance Week. He previously worked as a copy editor with the Boston Herald and Patriot Ledger in Quincy, Mass., and is a former city editor of The Hour Publishing Co. in Norwalk, Conn.
View full Profile