Anastasia Savvateeva, deputy head of financial crime compliance for continental Europe at Fidelity International Luxembourg, was named Rising Star in Compliance at the 2023 Excellence in Compliance Awards. She caught up with Compliance Week to share her view on keys to compliance success, work experiences, and future aspirations.
Q. What do you consider to be the most important qualities for success in compliance and anti-financial crime? How have you developed and demonstrated these qualities throughout your career?
A. Without of course mentioning integrity and solid regulatory and legal knowledge, these are sine qua non conditions:
Extreme rigor: If you're not rigorous, everything falls apart.
Ability to admit there are topics or aspects you may not know and ability to remediate that. When you are able to acknowledge your knowledge or experience gaps and still say, 'That's not a problem, I'll figure this out'; or, 'I'll work on it'; or, 'I'll reach out for help'—then you can find a solution to any issues that can arise. It goes even further than being just simply curious because curiosity may stop at theoretical knowledge while the ability to remediate your gaps suggests discovering practical application of your newly gained knowledge to the issues you may have.
Resourcefulness: agility of mind and being able to critically evaluate the situation.
Ability to communicate and willingness to share information.
Ability to engage with other people and to make them follow you.
I guess the first and third qualities have been almost innate with me—at least I don't remember ever needing to develop those. That was not the case for the other three. Developing them was a process directly related to my work, to my environment, and to the people I worked with.
Q. Can you share a recent experience in which you had to investigate a potential case of money laundering or corruption? How did you approach the situation while ensuring compliance with relevant regulations?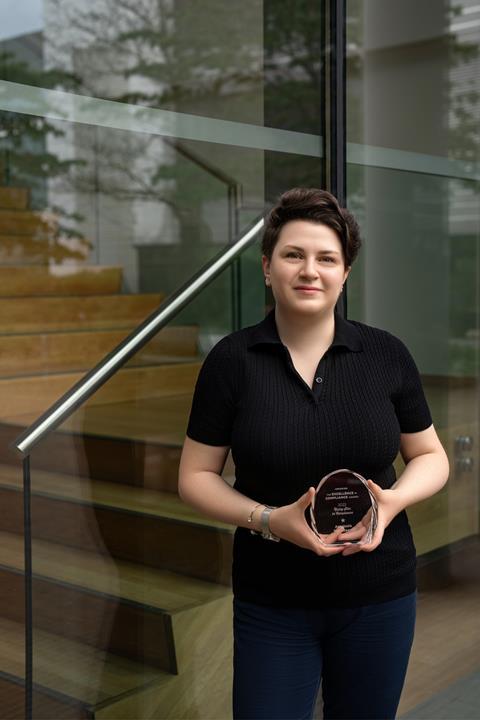 A. This case involved potential sanctions circumvention together with money laundering. The case involved an Iranian company importing goods from the [European Union] and using a correspondent banking account and shell companies in different EU countries. The transactions were already a couple of years old and were highlighted as part of a review process of transactions where a defined counterparty was involved, a correspondent bank.
Why these particular transactions attracted my attention? Well, initially, before I even thought about pursuing a career in compliance and anti-financial crime, I trained in applied foreign languages for my bachelor's degree. And when I looked at the transactions at hand, they involved a counterparty that had a particular linguistically tinted name. That's how an investigation was triggered.
This was an incredible teamwork. Our tech teams helped us retrieve the data, our business teams helped us with the analysis. It turned out that this counterparty was a small Iranian company (and based in Iran). We retrieved the invoices with an indication of the imported goods, and at the first glance they seemed like dual-use items. That's where you break out into a cold sweat.
We located the lists of the dual-use goods and analyzed each and every item to determine whether they were indeed subject to this regime. We documented our analysis and disclosed this to the relevant authorities. It finally turned out that those were not considered as dual use, but we decided to be on the safe side.
Q. How do you work with colleagues and stakeholders across different departments to ensure compliance with anti-money laundering and anti-corruption regulations? What techniques have you found to be most effective?
A. We do work a lot together with different colleagues and stakeholders, and I feel it has changed a lot compared to the years when I was at the beginning of my career. Today, compliance and anti-financial crime are an unquestionable part of any process, strategy, or decision.
The best techniques, in my book, include extensive communication; genuine interest in what our colleagues are doing; and asking them how we can help them in the short, medium, and long term. People are crucial, and we understand that. If people feel supported and empowered, everything else slots into place.
Q. Can you discuss your future goals and aspirations in the field of compliance and anti-financial crime? How do you plan to continue growing and developing as a rising star in this area?
More Excellence in Compliance Awards
A. I've been a mentor to students and young professionals for several years now, and I see an increase in interest toward compliance and financial crime—much more pronounced than in previous years. I'm really glad to see this trend, and I hope this will continue and we will have even more brilliant people engaging—very often following their convictions, values, and passion—in compliance and anti-financial crime.
I also hope that simplicity will finally become the ultimate sophistication and we will witness a harmonized approach to regulatory requirements, at least across the EU.
Personally, I'm looking at the areas where I may have knowledge gaps and filling them progressively because new challenges arise every day and I want to be able to help and bring perhaps an alternative vision. I'm looking to continue being the go-to person for my colleagues but also to develop partnerships to enhance further the visibility of our team.
Editor's note: All opinions expressed here are Savvateeva's personal ideas and should not be considered as views of any entity she was, is now, or will be affiliated with in the future.

Jeff Dale is the Digital Editor of Compliance Week. He previously worked as a copy editor with the Boston Herald and Patriot Ledger in Quincy, Mass., and is a former city editor of The Hour Publishing Co. in Norwalk, Conn.
View full Profile