Rachel Simon, vice president of privacy at AT&T, was named Compliance Mentor of the Year at the 2023 Excellence in Compliance Awards. The executive, author, and networking maven caught up with Compliance Week to talk about how leveraging her networking skills has helped AT&T build diversity in its ranks.
Q. What types of mentoring do you enjoy?
A. I love one-on-one sessions—just spending 20 or 30 minutes with someone. That's what fills my soul. I also enjoy mentoring circles. We have a lot of these at AT&T, and I love to lead them.
Q. Who has mentored you? What lessons have you taken from their leadership?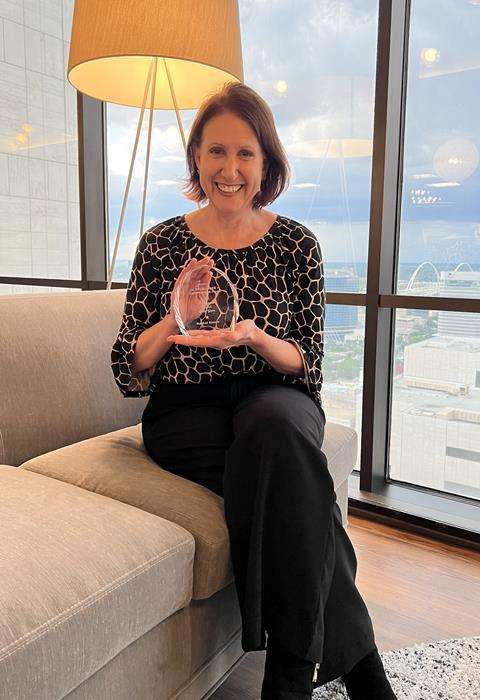 A. My current boss, Chief Privacy Officer Tom Moore, and David Huntley, our chief compliance officer, have helped me thrive, especially when I first came from finance and customer care and was new to the compliance and privacy world.
They continuously set me up for success. They pour energy into not only making sure I understand the landscape of what I'm doing but also understanding the complexity of relationships and how to help get people on board with innovative ideas. I'm very fortunate to be mentored by them.
Q. What is the AT&T Women of Finance and how are you involved?
A. I was promoted to be a vice president in finance back in 2011, and on my very first day in that role, our chief financial officer held a senior leadership team meeting. There were about 40 people in the room … and there were only six women.
I don't know how many women I expected but certainly more than six. One of my female peers said, 'Did you notice the same thing I did?' And I said, 'Yeah.' And she said, 'Do you want to do something about it?' I said, 'Yeah, let's do it.'
We went to our CFO with the idea to start the AT&T Women of Finance. He replied, 'I'm all in. I'm your executive sponsor.'
It has become one of the most successful employee networks at AT&T. You don't have to be a woman or in finance. Our pillars are mentoring, education, and networking, which help everyone succeed. It's really grown; today we have so many more women in leadership positions, which makes me proud.
Q. How did you develop your approach to networking?
A. I'm very introverted, and people are always surprised to hear that because they mistake being friendly and cheerful with being an extrovert.
More Excellence in Compliance Awards
Picture a big ballroom full of people. For me, that's the worst thing ever. I'm always in the back of the ballroom, just kind of hoping somebody will talk to me! Yet, I've learned to successfully form relationships one-on-one, one conversation at a time.
Nine years ago, one of my mentoring circles asked if I could teach them how to network. I put together a list of tips, and I paired each one with a real email that I either sent to someone or they sent me—it really demystified networking for the audience. This ties directly into our mission at AT&T, which is all about creating connections.
I've been giving this presentation for years, and every time I give it, someone says, 'You should write a book.' And so, I did!
It comes out Sept. 12. It will be available for preorder this summer.
Q. What are some of the tips and strategies outlined in the book, 'Relationships at Work: How to Authentically Network Within Your Company'?
A. The first tip I always give is to introduce yourself when you're new in a job. That way, you meet someone before there's a crisis. The tip works even if you aren't new; you can say, 'I can't believe I've been in my job for as long as I have without taking the time to get to know you. Let's get a cup of coffee.'
Another tip is to send notes when you're leaving a job and lay the seeds for keeping in touch. If you have a problem, you know who can help you.
Q. Are there any specific anecdotes in the book that touch on mentorship?
A. People ask me all the time, 'How do I get a mentor?'
The best mentoring relationships start with a networking relationship. For instance, someone hears me speak on a panel and what I say resonates with them (or the other way around).
And then it grows from a networking relationship into a mentoring relationship through intentional conversations. But it takes time, effort, and cultivation. I love to mentor, and I also love to be mentored. It has to be reciprocal to be effective and fulfilling for both people.
Q. How do you manage your time to grow the next crop of young privacy and finance professionals while also accomplishing your daily duties? How do you find that balance?
A. I have a methodical way of approaching work. The highest priorities always rise to the top and that's where I spend the majority of my time. The mentoring and networking I do are time savers for me because I have such a broad network in place that when I need something, I know the right people to help me get it done.
I love the quote, 'Dig your well before you're thirsty.' Having an extensive network saves me time.

Jeff Dale is the Digital Editor of Compliance Week. He previously worked as a copy editor with the Boston Herald and Patriot Ledger in Quincy, Mass., and is a former city editor of The Hour Publishing Co. in Norwalk, Conn.