"I am predominantly sunshine yellow," Bill Burtis explained.
Mid-interview to discuss his winning CCO of the Year at the 2023 Excellence in Compliance Awards, the chief compliance officer of networking and cybersecurity solutions company Juniper Networks was referencing a recent Insights Discovery assessment involving psychologist Carl Jung's theory of color energies.
Compliance Week had just suggested he was a people-oriented leader, to which he agreed.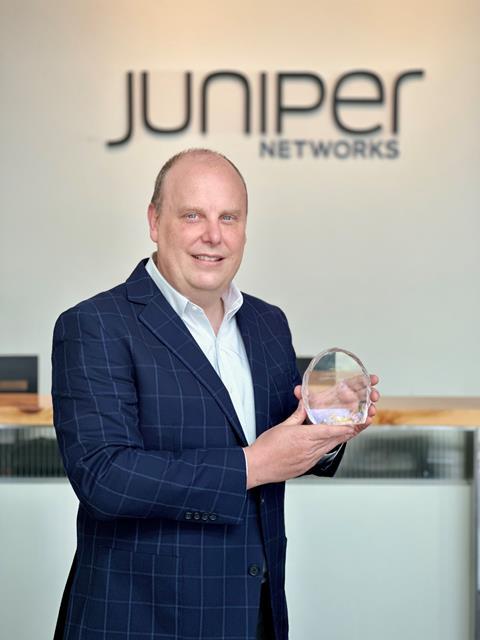 "To be effective in the role of CCO, I think it takes a certain type of person—one who is people-oriented and invested in building relationships with others," Burtis explained. "Although you can dial different 'color energies' up and down depending on the situation, I think you must genuinely care about the people and be deeply committed to your compliance program. If you don't believe in the message you're conveying, no one else will either."
Burtis, who accepted the role of CCO at Juniper in February 2020—relocating with his family from Europe to California at the dawning of the Covid-19 pandemic—is the Ted Lasso of compliance. Burtis is clean-shaven, not mustachioed; and he hails from Missouri, not Kansas, but nevertheless: The CCO embodies the endearing essence of Lasso's character.
Burtis is an affable leader with an innate ability to build others up and forge strong connections. He leads his team, Juniper's integrity and compliance group (ICG), with high energy, creativity, and authenticity. And he is not short on fun. He does yoga with his team and never misses birthdays and service anniversaries.
Burtis received a flurry of Excellence in Compliance nominations from the ICG, as well as from Juniper's general counsel and professional acquaintances outside the organization. One point became clear over the course of CW's interviews with nominators: Burtis is beloved.
Across the board, his colleagues described him as down-to-earth, humble, innovative, fun, adventurous, collaborative, and gritty, with a high sense of integrity.
"There are a whole bunch of people who come to work and are just motivated by a paycheck. And then there are others who do it out of a passion and desire to make a positive impact. Bill is 100 percent the latter," said Camille Harlan, senior director, head of integrity and compliance, EMEA at Juniper.
"I really do think he is integrity personified. He's very transparent, very open, and I see that in both my personal and professional dealings with him. He's just an honest, straightforward guy," said Dan Mascaro, global investigations director at law firm Sideman and Bancroft and director of audits and investigations for technology company True Pedigree.
Another colleague called Burtis a visionary.
"He has a lot of passion for building and enhancing the ICG program. He drives the program from being rule-based to being based on ethical decisions and outcomes. … That itself is quite visionary," said Gerard Chan, associate general counsel and head of compliance, APAC at Juniper.
Chan and others credited Burtis with transforming the reputation of the ICG from burden to value-add for the company.
"His greatest achievement is in elevating the brand of ICG," said Chan. "We want to see ourselves as true business partners, and that's a very important transformation that he is responsible for."
"People see compliance as, 'Oh, God. Here they come down the hall.' Bill has really done a good job, through his personal relationships, of helping the team open doors and get in the business so we're accepted," echoed Harlan.
More Excellence in Compliance Awards
"Bill cultivates an approachable, data-driven, and pragmatic culture within both his ICG group and the broad spectrum of stakeholders that we support," said Rob Mobassaly, Juniper's general counsel. "He has instilled this culture throughout the organization, and he consistently sets an example for others to follow."
There are practical, replicable elements to Burtis's alchemy: his stated values and aligned behaviors.
"I believe in transparency and honest communications; that's always been my approach," Burtis said. "By setting the tone and modeling the right behavior, I hope to inspire others to bring their best selves to the table and approach their work with the same level of passion and dedication. I can visibly see this attitude and approach of the ICG."
In the spirit of honest communication, he attended 14 in-person "speak-up" trainings for new employees and managers last year.
Burtis explained, "My message is simple: Every employee has the ability and responsibility to shape and define our company's culture. People may underestimate their ability to do that, but I want to empower every employee—on Day 1—to contribute to our culture of integrity and compliance."
"For these new hires, they get a special opportunity to have face time and a personal connection with a chief compliance officer, which is not necessarily an opportunity everyone gets at other organizations," said Amanda Hiew, senior program manager of the ICG.
Across separate video calls with CW, award nominators from the ICG brought a palpable sense of camaraderie and engagement. The consistency in the nominators' responses was a testament to Burtis's genuineness and his success at establishing collective buy-in. Not only was he the same person with everyone, but he fostered a harmonious culture they cosigned proudly.
"People see compliance as, 'Oh, God. Here they come down the hall.' Bill has really done a good job, through his personal relationships, of helping the team open doors and get in the business so we're accepted."

Camille Harlan, Senior Director, Head of Integrity and Compliance, EMEA, Juniper Networks
He engages the team in challenging projects and "lets them run with them," said Lisa McCann, another ICG team member at Juniper. "Bill's an effective leader because he doesn't just take the path of least resistance. He is thoughtful, asks the right questions, and challenges the status quo in a way that doesn't put people on guard."
"Bill never settles for less. He's the driving force behind our compliance program's innovative thinking and continuous improvement," Hiew said.
Another motivating force is that Burtis has the team's back.
"Within the past year, we have had some pretty tough cases to deal with from time to time. … We have a duty to make sure people are held accountable because that's what builds the culture," Harlan said. "When those things come forward and we have difficult conversations, Bill's there supporting the team. He'll help us escalate if that's what needs to be done."
Under Burtis's leadership and vision, Juniper's ICG team has been busy. Over the last 18-plus months, the team:
Published their first speak-up report internally;
Reinvented the company's code of conduct training using an Avatar-esque video streaming platform to capture employees' attention;
Invested in a new, data-driven microlearning platform called Qstream that gamifies compliance training and delivers tailored modules to employees in bite-sized chunks for easy consumption and optimal engagement;
Piloted a brand protection team within the ICG and partnered with True Pedigree to integrate data analytics into tackling counterfeiting, gray marketing, and fraud;
Revamped the company-wide business courtesy process, migrating the tool to Juniper's main expense platform;
Enhanced the company's anti-corruption policy by offering new guidance to employees; and
Publicly published the company's worldwide code of conduct for the first time, in keeping with other reputable, benchmarked organizations.
Asked which accomplishment he prided the most, Burtis said for him it is less about the accomplishments and more about how the team delivers.
"My proudest moments are those when I see my ICG team take my vision and turn it into reality—from conception to execution," he said.
He offered practical tips for CCOs on how to establish a strong tone at the top, make in-roads with key stakeholders, procure that highly coveted seat at the leadership table, and provoke a cultural sea change.
Firstly, lean in.
"My proudest moments are those when I see my [integrity and compliance group] take my vision and turn it into reality—from conception to execution."

Bill Burtis, Chief Compliance Officer, Juniper Networks
"You must lean in and invest the time and effort to understand the company's strategic direction and the unique challenges faced by individuals and their teams," said Burtis. "You can't set the right tone without first understanding what's around you."
Secondly, build deep relationships early and often with key stakeholders.
"My priority is to build trust and become a trusted adviser within the organization," he said. "Deep relationships and open communications allow me to work more collaboratively toward a shared goal. It is important everyone understand the 'why' and the direction."
Thirdly, communicate the expectations.
"Provide leaders with the necessary insights about the importance and impact of tone and then empower them to become ambassadors of the [compliance] program," he said.
Fourthly, empower leaders.
"We constantly seek opportunities to involve our leaders in every aspect of our program," he said.
Lastly, be a part of initiatives. A strong compliance culture requires engagement at all levels.
"We often talk about 'strong tone at the top.' But honestly, it is the tone set at every level across the organization. This is how we do it," said Burtis.
Burtis's positive, can-do attitude is disarming in part because he strikes a delicate balance of speaking frankly and relating to his audience's point of view. (He holds a background in sales). His style of candor is unifying; it minimizes perceived barriers and wholly explains why his colleagues described him as a great connector.
"My role as CCO is to balance the need for compliance with the need for agility and innovation," said Burtis. "While compliance will never be frictionless, my goal is to reduce any unnecessary friction or obstacles. I want to create a compliance program that supports the business while ensuring our legal and ethical obligations."

Aly McDevitt is Data & Research Journalist at Compliance Week. She has a background in education and college consulting. Prior to teaching, she was an editor/author at Thomson Reuters.