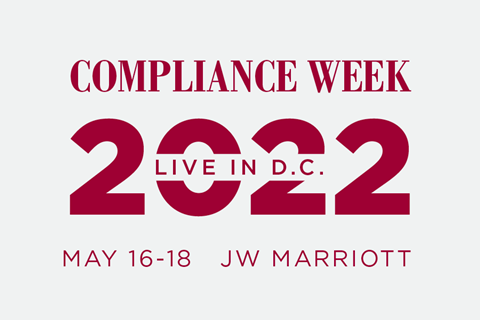 Buy a delegate pass before Dec. 1, and in addition to our lowest price in more than a decade, you'll get special recognition at the event and be entered in a raffle for a free one-bedroom suite at the JW Marriott in Washington, D.C.
LEARN MORE
BUY YOUR DELEGATE PASS TODAY!
Upcoming CPE Webcasts
The significant transformation of hybrid work has forced a lot of chief compliance officers to start to think about ways they can better manage their digital communication tools and channels.

The past year has been full of unexpected twists and turns that have tested risk and compliance professionals everywhere. Organizations have had to juggle a torrent of new regulations while quickly adapting to a changing risk environment.

The Department of Defense's updated Cybersecurity Maturity Model Certification 2.0 program has led to much speculation about the impact to prime DOD contractors and their subcontractors.

Company management and their auditors might not see eye to eye on everything. But clients and their third-party examiners have the common goal of implementing strong controls that are performed and documented consistently.

More than 60 percent of those surveyed in a recently published "2021 Global State of Anti-Money Laundering" report by BAE Systems said advanced criminal techniques have become even harder to spot in the last 12 months.

Hear from compliance and SOX subject matter experts at Armanino and Instacart on what pre-IPO companies should know, plan for, and do to ready their organization for going public.

Today, businesses find themselves navigating many ESG disclosure obligations and options. Whether you are in the early stages of ESG reporting or looking for ways to make your program more impactful, how do you navigate the ESG reporting landscape?
About our Webcasts
Compliance Week's free Webcasts are typically held either Tuesdays or Thursdays at 2 p.m. ET. These Webcasts offer CPE credit to attendees and feature select partners discussing key GRC issues. Webcast attendees may be contacted by sponsors. For information, please e-mail Doug Juenemann or call (888) 519-9200.
Live Webcasts (listed below) last one hour and must be viewed in their entirety in order for attendees to earn CPE credit. For questions, please e-mail Katie Klokner.
Subscribers can also browse our archive of previous webcasts (listed below) for more CPE credit and learning opportunities.