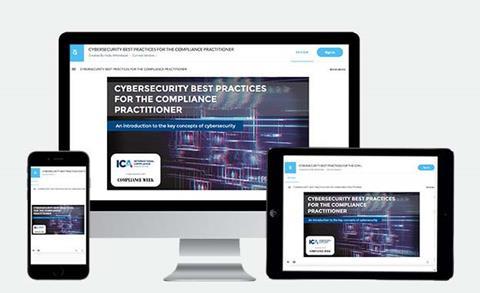 Take this self-directed, interactive course to deepen your understanding of cybersecurity risks and learn about the latest regulations to keep your organization compliant and prepared for today's dangerous cyber environment.
LEARN MORE
START THE COURSE NOW
More Training

In this virtual seminar jointly conducted with Clear Law Institute and former U.S. Department of Justice Attorney Michael Johnson, you will learn about the hundreds of research studies scientists have conducted to best interview witnesses and assess credibility.
Upcoming CPE Webcasts

What might the SEC's proposed climate disclosure mandate mean as finance and sustainability teams begin implementing and maturing their programs to deliver both business and ESG value?

This webinar will reveal results of the recent Compliance Week and CohnReznick co-sponsored survey asking respondents how prepared they are for the SEC's proposed rule requiring registrants to include certain climate-related disclosures in their registration statements and periodic reports.

More and more commercial organizations are voluntarily adopting cybersecurity risk management frameworks like NIST CSF, COBIT, ISO, and others considering recent legislation, executive orders, and reporting requirements.

The cascade of sanctions condemning Russia's assault on Ukraine has governments and financial regulators investigating Russian oligarchs, many of whom exploit gaps in public disclosure laws through offshore assets

Across the globe and sectors, we are seeing a compliance risk landscape that is evolving and becoming more complex. We are also seeing compliance functions respond to mounting internal and external demands, escalating compliance costs, and operating with constrained budgets and resources.

In this webinar, we'll show how to turn conflict into collaboration by aligning around shared goals and applying streamlined processes and smart use of technology across all phases of the content lifecycle.

Chief compliance officers and their teams are under increasing pressure to evaluate and choose the right technology partner to meet their growing compliance needs in the face of potential changes to their costs, solutions, and platforms.
About our Webcasts
Compliance Week's free Webcasts are typically held either Tuesdays or Thursdays at 2 p.m. ET. These Webcasts offer CPE credit to attendees and feature select partners discussing key GRC issues. Webcast attendees may be contacted by sponsors. For information, please e-mail Doug Juenemann or call (888) 519-9200.
Live Webcasts (listed below) last one hour and must be viewed in their entirety in order for attendees to earn CPE credit. For questions, please e-mail Katie Klokner.
Subscribers can also browse our archive of previous webcasts (listed below) for more CPE credit and learning opportunities.