How's that hybrid work model panning out in your workplace?
Remote workers enjoy the flexibility. In-person employees love they've got the office to themselves. But there is a risk these two types of employees will begin to resent each other, creating a corporate culture clash, labor and compliance professionals say. Navigating this new workplace reality will be tricky.
How should firms handle the wants and needs of these two distinct groups of employees? How do you keep them all motivated, engaged, and productive? What are some of the common pitfalls to avoid?
A May 2022 survey by employment law firm Littler polled nearly 1,300 in-house lawyers, C-suite executives, and HR professionals about their concerns regarding a hybrid work model. They were asked to check all answers that applied.
Of the respondents, 86 percent said their biggest concern was maintaining company culture and workplace engagement, 53 percent said ensuring hybrid/remote work is applied fairly, and 52 percent said efficiency of communication and meetings that are a mix of remote and in-person staff.
Other concerns included a reduction in mentorship and professional growth opportunities (45 percent); availability for in-person interaction with clients, customers, or third parties (40 percent); and scheduling obstacles with employees on-site on various days (28 percent).
Only 2 percent of those surveyed said they had no concerns about hybrid work.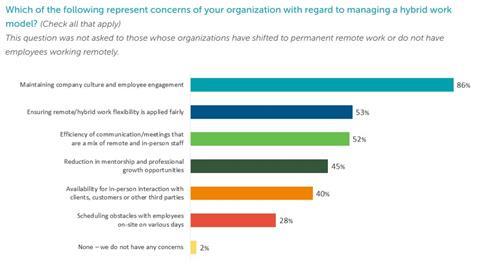 "What you don't want to do with remote work is create haves and have nots," said Claire Deason, shareholder at Littler.
"You want to implement a hybrid model in a way that doesn't create perceived inequities and resentment," she said. "Everyone has been given some flexibility, and some employees have taken it to an extreme. That can create feelings among groups of employees that some are taking advantage of the system, that they are getting more than they should be entitled to."
Whether your company plans to require all employees to return to the office, continues to utilize a hybrid model, or goes fully remote, here are some best practices to keep different groups of workers from resenting others.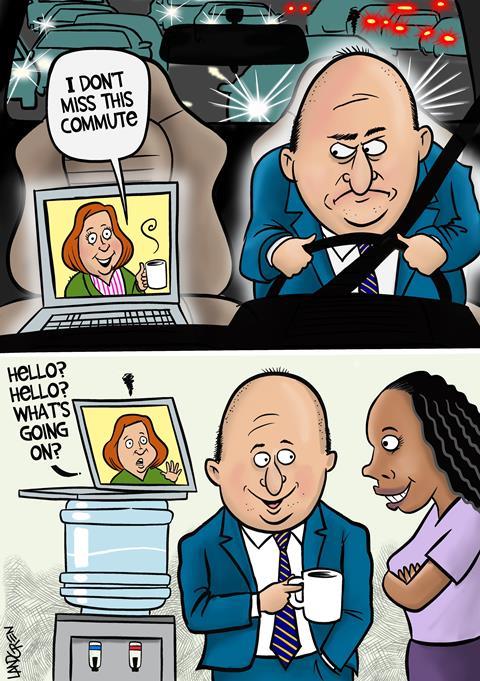 Tone at the top
If your company orders everyone back in person by a certain date, start bringing back executives and managers first. Encourage employees to come in a few days a week, and don't be afraid to bribe them with free breakfast, catered lunches, or snacks.
If your firm wants to continue with hybrid work indefinitely, make the days where people do come to the office meaningful. There should be enough workers present on any given in-person day for traveling in to be worth it.
Whatever policy your firm adopts, top executives and managers should set an example.
"If you don't see people at the top practicing what they preach, it will build resentment and a sense employees don't need to comply," said Gus Sandstrom, labor and employment partner at labor law firm Blank Rome.
"As with any attempts to influence workplace culture, change has to be top-down," agreed Caroline Donelan, also a Blank Rome partner.
Recognize past accomplishments
Employees who worked in person throughout the pandemic gave their all under difficult circumstances. They literally risked their lives. Now is the time to show them how valued they are.
Many firms might have already increased salaries and offered bonuses to in-person employees. Even still, those workers might be casting an eye toward their colleagues allowed to work from home and saying, "What about me?"
Make sure those employees take their vacation time. Offering them split shifts, more flexible hours, or the ability to work the same number of hours a week in four days instead of five are all ways to give in-person workers some of the schedule flexibility they see their remote counterparts receiving.
Remote workers proved they could be as productive, and maybe even more so, during the pandemic. You can reward that accomplishment by offering productive employees the chance to continue working remotely, either in a hybrid model or fully remote.
For both in-person and remote workers, schedule flexibility has become a benefit on par with pay and advancement opportunities. Maybe they can start work at 10 a.m. some days, instead of 8:30.
"Flexibility is really important to employees," Sandstrom said. "Employers willing to accommodate those requests, within reason, eliminate one of those mental hurdles to coming into work."
A happy employee who feels heard by their employer regarding work-life balance is less likely to look for a new job.
Communication is key
"Even if you offer a 'flexible' workplace, you still need to be clear with your expectations," said Donelan. "If there are certain meetings or events employees are expected to attend in person, they need to know that."
While setting mandatory in-person meetings might be effective in the short term, offering more carrots than sticks is key, at least at first.
"Making people want to come in is as important, maybe more important, than ordering them to come in," Sandstrom said.
Promoting well-being can be one method of encouraging compliance with your new workplace rules. Offer in-person meditation sessions in the office once a week or plan a joint Peloton bike ride for remote employees.
And offer bribes. You'd be shocked how many employees will come to work for a catered lunch or unlimited free snacks.
"Making people want to come in is as important, maybe more important, than ordering them to come in."

Gus Sandstrom, Labor and Employment Partner, Blank Rome
No one wants to come into an empty office, at least not regularly. Give employees information about who in their division or team will be back in person on which days.
Legal pitfalls?
An employer can set any workplace rules it wants if they are worded and implemented in a neutral, unbiased way, Donelan said.
But policies seen as archaic, unevenly enforced, or rushed can prompt employees to look for a new job, Sandstrom said.
"It's very easy to say everyone needs to be back in, but you need to be aware of all the consequences of that," he said.
When an employee asks for an accommodation, consider it through a variety of lenses. Will making the accommodation hurt productivity? Will it affect the morale of other employees? And is there a legal right at stake?
"There is a possibility of lurking protected and covered leave issues" behind some remote work requests, said Deason. Accommodation rules laid down by the Family and Medical Leave Act, Americans with Disabilities Act, and other laws could present problems for return-to-office mandates. So could health issues that could be worsened by exposure to Covid-19 during an employee's workday or commute.
When the inevitable questions start popping up—why does Jane get to work from home so much when the rest of us are back in the office?—managers should be prepared to answer them with as much information as they are allowed to while protecting employee privacy. "You have to train your managers on how to navigate that," Deason said.
"We ask our employees to remember there are many reasons why an employee might need to stay away from the office," Deason said. "Frankly, outside of HR, it's probably none of anyone's business why an employee might work from home on a particular day."

Aaron Nicodemus covers regulatory policy and compliance trends for Compliance Week. He previously worked as a reporter for Bloomberg Law and as business editor at the Telegram & Gazette in Worcester, Mass.
View full Profile