We annually prepare a list of the top 10 reasons why you should attend the Compliance Week National Conference. In honor of this 15th anniversary, CW is kicking it up a notch (or five) and presenting instead the top 15 reasons why the Compliance Week National Conference 2020 is the year's must-attend event for compliance officers.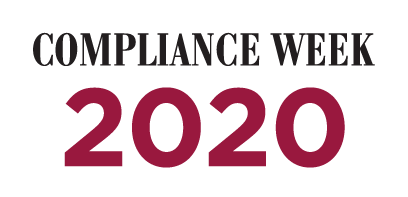 Registration for Compliance Week's 2020 National Conference (May 18-20 in Washington D.C.) is now open! Use the code TOP15 to save $300. (Code is valid for new registrants only. May not be combined with other offers.)
REGISTER NOW
To illustrate the reasons why you should attend, here's a quote from the original compliance officer, CW Director of Programming Barbara Boehler's Mom (and your Mom and probably everyone's Mom).
No. 15: "Because money doesn't grow on trees."
Conference attendance is expensive from both a monetary and time perspective. With more than 60 unique sessions, at CW2020 you will have the ability to gain both CLE and CEU credits and have access to the most cutting-edge compliance issues all within the same conference and with a discount. You can use "TOP15" at registration for $300 off.
No. 14: "When I was your age, I had to walk to school 10 miles … each way … uphill … in the snow."
CW's cross-industry perspective allows members to come together to explore the large thematic issues of compliance as a community. Industries vary in maturity models for their programs. Newer compliance programs will discover how companies in very highly regulated industries built their mature programs, while practitioners with more mature compliance programs will benefit from newer, innovative approaches to questions of compliance.
No. 13: "Don't burn the candle at both ends."
As you are no doubt aware, the daily work of a compliance officer can be incredibly stressful. Coming together as a community can help you to refresh and reset so you're ready to face the daily challenges head-on. With sessions on maintaining balance within your individual career and your program in general, CW2020 can help you to return to your program with a new perspective.
No. 12: "Go out and play in the yard."
At CW2020 you will meet over 600 senior compliance professionals from every conceivable industry. While there's no plan for a game of touch football on the National Mall (this year anyway), you will have ample opportunities to connect with your peers during the conference.
No. 11: "You CAN but you MAY not."
What is legal is not always what is ethical or the right way forward from a compliance perspective. Best practices shared and lessons learned will form the basis for nearly every session at CW2020.
No. 10: "Here's a dime … go call someone who cares."
Compliance Week's unique conversation sessions offer an opportunity to connect and share with a small group of compliance officers who absolutely care about the issues that matter most to you. Conversation sessions are facilitated by your peers and give you a chance to discuss your program with those facing similar challenges.
No. 9: "Get your elbows OFF of the table."
There will be ample opportunities to show off your impeccable table manners and make mom proud. Be sure to pre-register for CW's annual Women's Luncheon on Tuesday, May 19.
No. 8: "If so and so jumped off a bridge, would you jump off a bridge?"
One of the most valuable aspects of the conference is the ability learn from others who have faced similar challenges. Your peers will share their stories with candor, helping you to make more informed decisions about whether jumping off the bridge into a new product, area, location, etc., might (or might not) be the best idea for your program.
Stepping away from your office and joining the conversation at CW2020 is a great way to ensure that your program is not frozen in the past. Gain valuable insight and the most up-to-date information from CW's 150+ expert speakers.
No. 7: "You'll understand one day when you are a (risk officer, auditor, human resources professional)."
Not only will you hear from compliance officers, you'll also hear from risk, audit, human resources, regulators, and academics. Understanding the various lenses and points of view of your stakeholders is an important consideration in making your program as strong as possible.
No. 6: "Your face is going to freeze that way."
Stepping away from your office and joining the conversation at CW2020 is a great way to ensure that your program is not frozen in the past. Gain valuable insight and the most up-to-date information from CW's 150+ expert speakers.
No. 5: "I suppose you think you are special."
Well, CW thinks that compliance officers are special. Join us at the first annual "Excellence in Compliance Awards" gala on Monday, May 18, where you can help Compliance Week recognize your compliance peers for the hard work they do.
No. 4: "We'll cross that bridge when we come to it."
Compliance departments face ever-increasing regulatory change and scrutiny amid an unpreceded time of technological advancement and a tremendous amount of uncertainty (election year!). Coming together as a community allows for the opportunity to focus together on ways to navigate through uncertainty.
Nos. 3 & 2: "This hurts me more than it will hurt you" and "Don't you make me pull this car over."
One of the most compelling reasons to attend CW2020 is that you will hear from current and former regulators and policy makers. This is where you get it right from the horse's mouth—the rules from the rulemakers—and have an opportunity to ask questions and be heard.
No. 1: "Because I said so."
As mom's "go to" catch-all, it's an obvious No. 1. Compliance Week can't speak for your mom, but it's almost a certainty she thinks you should attend Compliance Week's 15th annual conference. (And if she says no, just tell her you're sleeping at a friend's house.)