"Will to win" is one of Tenneco's main core values—and considering its compliance department was named top program of the year at Compliance Week's 2021 Excellence in Compliance Awards, the company definitely lives out the values it espouses.
"It sounds so simple when I say it now, but it was not so simple," laughs Kim Yapchai, senior vice president, chief ESG officer at Tenneco. Yapchai was harkening back to the pandemic's onset, when the global automotive components manufacturer's compliance department was first rolling out its health and safety protocols to keep the business truckin'—literally. The world needed working ambulances and food trucks then more than ever.
The words "Q2 2020" are enough to rouse a shudder from any business professional. People feared the unknown, and Tenneco's staff of 73,000 was no exception. The acronym "FINE" springs to mind: freaked out, insecure, nervous, and emotional. Everyone was … fine. For Yapchai's compliance team, that period was all about being the rock of the company. Everything really was fine, in their program's hands.
"The compliance team chose to be the support system and role models that others needed as they faced so much uncertainty and change," Yapchai said.
Tenneco's compliance team embraced the challenges wrought by the pandemic. In some cases, they welcomed them.
"If you look at our four values, they're in plain English. … No matter what your role is within the organization, or where you're at from a career perspective, you can always tie them back to your day-to-day activities."

Rob Kolo, Global Director of Ethics and Compliance, Tenneco
Take their supply chain operations in Mexico, for instance. As a manufacturer of Tier 1 and aftermarket automotive parts, Tenneco was accountable to a North American customer base whose own factory lines depended upon the supply of parts from the company's cross-border operations. To maintain business continuity, Tenneco's compliance department obtained the right approvals in Mexico so local business operations could resume safely.
"We actually would request inspections," Yapchai recounted. "We wanted local authorities to have the comfort of knowing we were doing things the right way. … The authorities were impressed, and we were allowed to reopen."
'Integrity always'
When Tenneco acquired global automotive supplier Federal-Mogul in 2018, the company revisited its core values and whittled them down from 10 to four:
Integrity always
One team
Make tomorrow better
Will to win
"Our CEO, Brian Kesseler, said if we just had one value, 'integrity always' would be THE one," Yapchai said.
Tenneco strives to provide a culture of constant communication, transparency, and trust, as well as a place where ideas are openly encouraged, the company Website states. These are lofty, abstract goals. The work is in operationalizing it—turning lip service into conviction and words into action. Tenneco's compliance program embedded the values into the everyday business.
So, what is integrity always?
More Excellence in Compliance Awards
"It's doing the right thing, the right way, always. I think it's as simple as that," said Rob Kolo, global director of ethics and compliance at Tenneco.
"When you say 'integrity always,' it's distinguished from 'integrity when it's convenient' or 'integrity if I don't get caught.' That's all 'integrity sometimes.' It's amazing the difference one little word can make," Yapchai mused.
Keeping it simple
"If you look at our four values, they're in plain English. … No matter what your role is within the organization, or where you're at from a career perspective, you can always tie them back to your day-to-day activities," Kolo explained.
Simplicity was also the strategy for Tenneco's revamped code of conduct, launching in the second quarter of 2021. The text is readable. "It's the equivalent of picking up a magazine," Kolo said. The economy of style makes the content versatile. The plain language is understandable to non-native English speakers across Tenneco's global workforce and applicable to all manner of workplace scenarios.
The same can be said of Tenneco's GPS, a decision-making tool the compliance team developed. The navigation system is a nod to the automotive industry.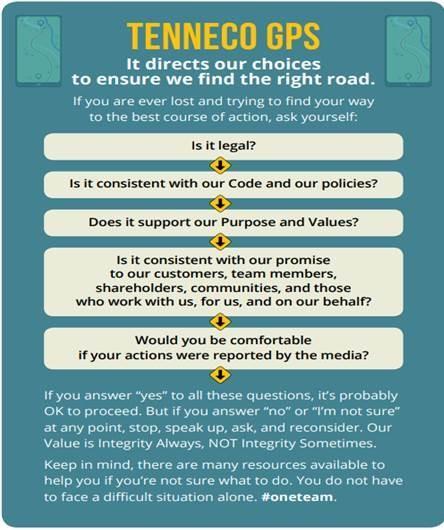 "It's a very impactful visual that helps team members navigate sticky situations," Kolo explained. "It's almost an 'if this then that'- type flowchart that's an easy-to-follow tool."
As a further play on the automotive theme, the team created traffic light graphics that illustrate three levels of conduct and signify instruction: ethical role model (green), proceed with caution (yellow), and wrong way (red). There are traffic light graphics corresponding to every risk area in the code.
"The reason we picked the traffic light is because we understand decision-making is not always black and white. It can be gray, and you can be uncertain. We also didn't want the role model behavior to get lost along the way," Yapchai explained.
A global culture
Fostering a speak-up culture in times of personal stress and worldwide distress became a paramount objective. The team provided articles to employees that demystified the whistleblower hotline. The point was to help employees understand that, "if they do speak up, we will address their questions in a timely manner," said Kellie Milligan, global compliance manager at Tenneco. "During that time, we saw an increase in calls."
It was also important to coach managers on how to respond to employees who chose to speak up, so the compliance team partnered with human resources to pilot a virtual leadership development course for managers.
"We really stress to them what the expectations of them are as managers and the importance of helping support a speak-up culture," Milligan said.
"You hear people say that the middle manager is difficult to reach," Yapchai added. "The virtual leadership development course really gave us the vehicle to do that."
The effort was additionally supported by the launch of Tenneco's first regional Ethics and Compliance Committee in Asia Pacific (APAC). The committee has its own Website and posters in all the facilities to raise awareness of its local presence and accessibility.
Sunday Zhou is an APAC ethics and compliance officer for Tenneco in Shanghai. As a Chinese national, Zhou understands the regional factors and can build a speak-up workplace culture in a manner that feels appropriate.
"The speak-up culture is not about trying to make anyone focus on others' misconduct," Zhou said. "It's about encouraging employees to speak their concerns about a question where they don't confidently know the answer. They can contact not only the compliance department but HR, legal, and other functions' superiors, whom they can trust."
"In Asia, hierarchy is part of the culture. That's a different challenge in building a speak-up culture than in other regions. When you tell somebody to speak up to authority, you may be asking them to do something they were taught not to do," reflected Yapchai.
Employee feedback
Tenneco's compliance team also found a way to lift everyone's spirits in 2020. They called it the Integrity Meme Contest, and the challenge was for employees to create funny memes that involved the value of integrity always.
Submissions were voluntary. They received over 70 unique submissions and over 15,000 views.
The winning meme showed a man working at a computer wearing a button-down shirt and pajama pants. The quote read: "Integrity is like wearing pants even if you are working from home." The contest was a hit. It struck a note of levity at a time when employees needed it.
"That was the feedback we received from different team members—that the timing was great. They felt that they connected, and that it was a way to just have a quick laugh and maybe put some of the stresses of COVID aside for just a minute or two," said Kolo.
Indeed, the meme challenge was a litmus test for the compliance team as well: a way of appraising the efficacy of their engagement efforts across the board. They were pleased with the turnout.
The real proof in the pudding, though, were the results of Tenneco's 2020 engagement survey. The company had succeeded in encouraging employees to feel comfortable speaking up, evidenced by a 12-point rise in score compared to the prior 2018 survey. That's why the compliance team sees this award as a win for the entire company, not just themselves. It takes a village.
'Make tomorrow better'
Tenneco's CEO asked the compliance team to lead the company's global corporate social responsibility reporting efforts.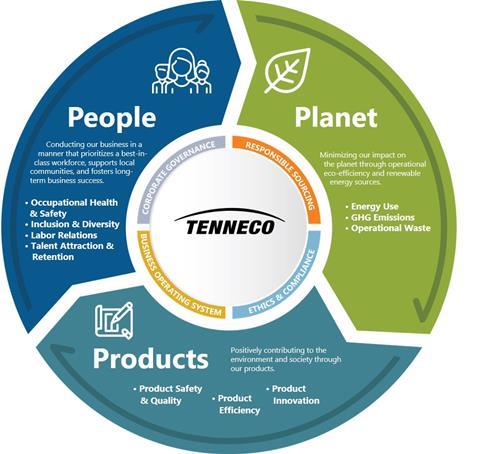 "In the Tenneco ESG program, we are aligning our goals with industry leaders in this area and setting CO2 reduction targets," said Adrian Khouri, director of Tenneco's corporate ESG program and powertrain quality.
The team recently developed a new ESG program framework that describes "people, planet and products" as its focus.
"Our ESG program includes not only our impact on the environment but also how our products contribute to the environment and support our customers' uses," explained Khouri. "And from the people-side, our strategy is key in terms of promoting diversity and inclusion, talent development, [and] health and safety."
From a planetary perspective, Tenneco's compliance team is in the process of setting CO2 emission reduction targets that will be announced in the near future.
"We are prepared to move forward with our targets, even if there are no regulations or legislation that require it," said Yapchai.
That mindset—of going above and beyond with or without arm-twisting—is why Compliance Week deemed Tenneco more than worthy of its Compliance Program of the Year Award.

Aly McDevitt is Data & Research Journalist at Compliance Week. She has a background in education and college consulting. Prior to teaching, she was an editor/author at Thomson Reuters.
View full Profile