The onset of the COVID-19 pandemic proved to be the ultimate stress test for ethics and compliance. Existing risks were amplified, and the evolution of new risks—infectious disease outbreaks, government-ordered lockdowns, rolling supply chain disruptions, and more—made 2020 even more unpredictable.
For FedEx Corp., which delivers more than 2 billion packages annually worldwide, the pandemic tested the resiliency of all its systems. The world watched as FedEx delivered crucial personal protective equipment (PPE) in the early stages of the pandemic and COVID-19 vaccines and tests in its later stages. The company also managed opportunities and challenges posed by a pandemic-fueled e-commerce boom.
Justin Ross, an 18-year FedEx veteran who has served as chief compliance officer since 2019, enhanced the company's speak-up culture by ensuring pandemic-related workplace issues were handled quickly and transparently. His team kept the company's culture of integrity intact, even with increased bribery and corruption risks stemming from the worldwide reduction in air and ground cargo capacity. All the while, Ross found time to share pandemic lessons learned with other compliance professionals.
For these and other accomplishments, Compliance Week named Ross winner of the Chief Compliance Officer of the Year honor at its 2021 Excellence in Compliance Awards.
"With the uncertainty of this moment, safety concerns among their frontline workers, and extraordinary e-commerce growth, Justin and his team drove data-informed, strategic communication that focused on FedEx's biggest risks," said Carrie Penman, chief risk and compliance officer for NAVEX Global, who nominated Ross for the award.
More Excellence in Compliance Awards
The FedEx compliance team "demonstrated compliance can be a true business partner," Penman said. "They were helping them navigate some incredibly complex compliance requirements that were necessary to move everything they were moving."
"Justin found ways to push the FedEx compliance team to achieve amazing results. He's a great person and a great leader," said Melissa Paul, FedEx's staff director of integrity and compliance.
"I think he could have just kept the lights on, but instead we powered forward," she said. "Justin is constantly looking for best practices and pushing us in a supportive, realistic way. We are not slowing down, even during COVID. The whole business is continuing to grow and evolve and change, and he has been right there with us."
"Justin is constantly looking for best practices and pushing us in a supportive, realistic way. We are not slowing down, even during COVID. The whole business is continuing to grow and evolve and change, and he has been right there with us."

Melissa Paul, Staff Director of Integrity & Compliance, FedEx
Ross is quick to give credit to the hard work of his compliance team and legal and business partners. Consistent messaging reinforcing ethical behavior from FedEx executives and a well-established corporate culture made success possible, he said.
"Everywhere I go in this company, there's a sense of doing the right thing, even if it costs us business or profits in the short term," he said. "No matter how strong your compliance program is—training, communication, controls, risk assessment—if you don't have this underlying culture of integrity, then you're not going to be successful."
In March 2020, when it became apparent the pandemic was profoundly affecting FedEx workplaces around the globe, Ross and his team launched a separate tracking system for COVID-related hotline complaints from employees.
The team then prioritized the complaints and disseminated them on a near-daily basis to the various operational teams. Among the issues were requests for additional PPE or cleaning supplies, social distancing questions, concerns about coworkers being sick, and the spread of misinformation. Employees who filed the reports were kept up to date with detailed information about the response.
"By centralizing (the response), it helped us address these issues faster, more efficiently, and more consistently across the enterprise," Ross said.
"By identifying, triaging, and communicating these issues, he and his team served as a critical lifeline for employees to get their concerns addressed, reinforcing FedEx's speak-up culture and freeing up managers to perform their demanding jobs," Penman said. "They struck the delicate balance between acting quickly and effectively."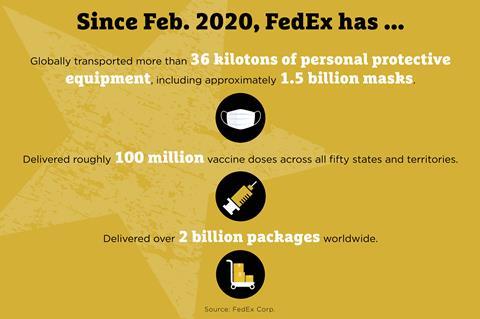 The pandemic amplified some risks and created new ones. Rules for moving product between foreign countries is always complicated but was exacerbated by COVID-19, particularly when countries would suddenly bar PPE exports.
Early on, a severe shortage of cargo space occurred when, almost overnight, commercial air traffic disappeared. FedEx employees were regularly reminded of the new corruption risk associated with people desperate to get their product shipped.
"I'm incredibly proud of what our team has done, and (Justin) is in large part the reason for it," said Paul. "He's done an excellent job of supporting the team, communicating, being transparent, and helping us all face incredible challenges at a personal level."
Ross kept his compliance team loose with Zoom happy hours, virtual holiday events, and even a cooking lesson while also keeping expectations high, she said.
Penman worked with Ross as part of the NAVEX Global Advisory Council. In that role, he shared how FedEx handled the stressors created by the pandemic and its impact on all aspects of business.
Ross remained approachable, thoughtful, and transparent, she said. Despite the demands on his time, he managed to speak to numerous professional associations and share his knowledge and experience.
"He has elevated the role of compliance at FedEx and empowered compliance professionals across industries to do the same," Penman said.

Aaron Nicodemus covers regulatory policy and compliance trends for Compliance Week. He previously worked as a reporter for Bloomberg Law and as business editor at the Telegram & Gazette in Worcester, Mass.
View full Profile