There's a reason we chose "New World. New Risks. New Solutions." as the tagline for Compliance Week's 16th annual National Conference (May 11-13), and it's not because we thought it was catchy.
Register for Compliance Week 2021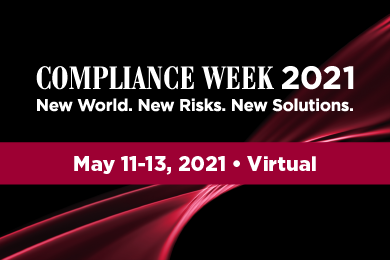 It isn't too late to book your spot at the premier peer-to-peer compliance event for spotlighting compliance leaders and their programs. To receive an exclusive discount to CW2021, please email Delegate Sales Manager Donna O'Neill.
The world has been flipped on its head because of the pandemic, which means the landscape has never been more treacherous—even as the transition to post-COVID normalcy approaches on the (hopefully, not-too-far-off) horizon.
For the past 15 months, chief compliance officers and their teams have navigated a maze of new risks, including a surge in cyber-threats, fraud, and ethical challenges, not to mention a new presidential administration with a vastly different and still-evolving regulatory agenda.
New risks and new agendas, it would follow, require new strategies. Our National Conference (going virtual for the second consecutive year) brings together regulators, CCOs, risk managers, and thought leaders across industries and from around the globe to share best practices and make sense of these evolving challenges.
Please consider joining us for what will be three days—23 sessions, more than 60 speakers, and an opportunity for more than 15 continuing education credits—chock full of insights, including an entire day dedicated to enhancing your compliance career.
What follows are five things I am most looking forward to:
1. James Comey's keynote
Former FBI Director James Comey will kick off the conference Tuesday morning with a speech centered around the emerging risks he sees as the world begins to emerge from the pandemic. He'll talk about why compliance practitioners will be more important than ever during what he calls the coming "boom times"—a period of economic recovery in which fraud and ethical shortcuts will be widespread, if history is any indication.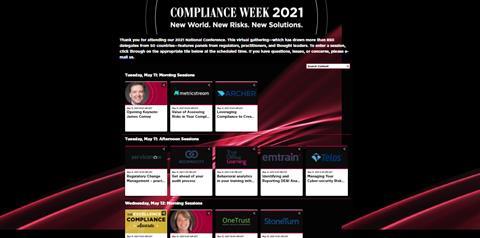 His 30-minute pep talk will be followed by a 20-minute audience Q&A, at which time you'll get to pose your own questions.
One theme we hope Comey hits on is at the center of his new book, "Saving Justice"—restoring trust in our institutions. Informed by decades of public service in positions that included U.S. attorney for the Southern District of New York, U.S. deputy attorney general, and of course as FBI director for four years before being fired by President Donald Trump, Comey offers a unique perspective on what he perceives as a deterioration of public trust in the institutions of justice over the past four years.
In his book, Comey describes the Justice Department he remembers as independent of political leanings: "a group of people trying to do the right thing," he writes. The "gift" of that independence and its servants' singular focus on justice being served without favor helped to create "a reservoir of trust and credibility … filled one drop at a time."
Comey explains that while it takes a lot of time and effort to fill that reservoir, it takes just one leak, "one hole in a dam," to drain that trust quickly. The leak to which he is referring, of course, is his belief that Trump during his presidency stripped away the independence of the Justice Department, using it instead as a political tool and emptying that reservoir.
We think there's a parallel to be drawn between the public institutions of justice, designed to be independent arbiters of truth, and ethics and compliance practitioners, whose jobs are to ensure their companies not only follow the rules but also take an ethics-by-design approach to all decision-making.
Like public servants in the Justice Department, compliance officers must be independent and free of the influence of agenda-driven business leaders to be effective and to build their own reservoirs of trust and credibility among all company stakeholders—customers, employees, shareholders, and the communities in which they work and live.
We'll ask Comey, among other things, whether he agrees with that assessment.
2. Career Day: How to advocate for yourself
For the first time in the history of our National Conference, Compliance Week is dedicating an entire day to advancing your compliance career. Day 3 of our agenda (May 13) begins with a keynote from executive coach and CW columnist Amii Barnard-Bahn, who will explain why self-awareness is crucial to success and relay three actions you can take to unlock that critical skill.
That will be followed by a session on how to best promote yourself to your executive team and have impactful conversations about compensation.
Career Day will also include a discussion on the evolving role of the compliance profession. Increasingly, CCOs and those who work for them are called upon to take on more strategic responsibilities within their companies and therefore need the tools to succeed in such a function.
The day, and conference, concludes with an uplifting Women in Compliance double session. Kristy Grant-Hart, author of "How to Be a Wildly Effective Compliance Officer," will kick off by talking about ways in which women unintentionally undermine themselves in conversations and will identify strategies to avoid it.
She will also share five powerful ways practitioners can influence their businesses and ensure their points are heard.
After her remarks, the session will transition to an interactive breakout on Zoom, where attendees will engage in a discussion among peers. We're looking forward to a free-flowing conversation about some of the unique challenges women have faced during the pandemic and the work-from-home environment and what they think "normal" will look like within their departments and in their careers once the pandemic is behind us.
3. One CCO's journey
A virtual fireside chat with Citi CCO Mary McNiff, who started in her role just after the pandemic hit, highlights our agenda on Day 2. Responsible for independent compliance risk management for the world's most global bank, McNiff will discuss her job leading the compliance function of a systemically important, global financial services business.
She'll talk about the dynamic nature of compliance and where she sees the compliance role heading in the future.
4. Second annual Excellence in Compliance Awards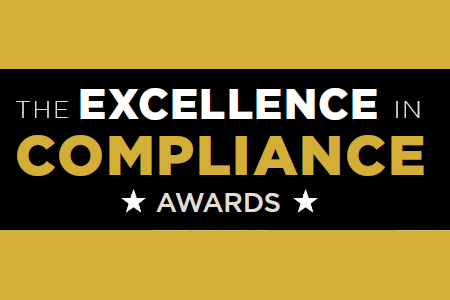 The winners of Compliance Week's Excellence in Compliance Awards will be announced during a special virtual session at noon on Tuesday. Winners in each of our seven categories—including the prestigious CCO/CECO of the Year, Lifetime Achievement in Compliance, and Compliance Program of the Year—will share their insights on the unique challenges they faced during the past year in exclusive video interviews.
5. The role of technology in compliance
A recurring theme throughout the first two days of the conference is how companies' increased use of technology and collection/storage of customer data has swollen organizations' risk profiles.
That trend has both elevated the role of compliance and cyber-security and introduced new risks and challenges for the practitioner. At the same time, the expansion of companies' attack surfaces because of remote work has created a larger "playing field" to protect and has emboldened bad actors.
Over the first two days of the program, you'll get actionable advice from senior compliance leaders on the front lines on how to determine the sensitivity of your data (and which third parties have it), the best ways to get board support for beefing up your cyber-security protections, how to determine the weakest links in your data protection chain, and much more.
Day 2 will also include an interesting session looking way off into the distance: "Where compliance will be in 2030." (We're crossing our fingers there won't be a COVID reference in that one.)

Dave Lefort was Managing Director of Compliance Week. Before joining CW, he spent nearly two decades in digital leadership roles with ESPN and The Boston Globe.
View full Profile